This is one of the first recipes I ever tried from the internet (or from a celebrity chef) and having been using for more than 5 years now. According to Food Network,
this recipe
aired in Season 5 (2004) of 30 Minutes Meals, with Rachael Ray, of course. Although I've tried other flank steak marinades, this ones is always my go-to recipe. I think it's all the garlic plus the smokiness of cumin and paprika that I like. This is excellent as a main dish, as well as in salads or fajitas, which is how I usually finish the leftovers. Tonight I accompanied the dish with roasted baby red potatoes which were as cute as they were yummy.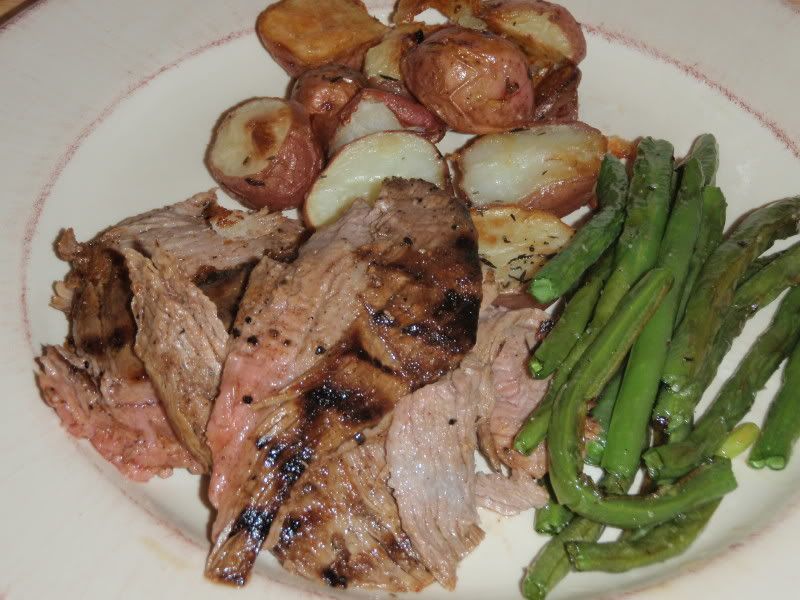 3 cloves garlic, finely chopped
1 tablespoon grill seasoning blend (recommended: Montreal Steak Seasoning)
1 teaspoon smoked paprika,
1 tsp cumin
2 tsp hot sauce, if desired
1 tablespoon Worcestershire sauce
2 tablespoons red wine vinegar
1/3 cup extra-virgin olive oil
2 pounds flank steak
Whisk together garlic through olive oil. Pour over steak and marinade for about 20 minutes (probably no more than an hour since there's vinegar), flipping half-way through. (I often use a ziploc bag for easy cleanup.)
Grill about 5-7 minutes per side for medium rare, depending upon the thickness of the meat.
Remove from grill and let rest for 5 minutes. Slice thinly against the grain.
Serves 4.