About 3 months ago, I made my first ever
Stuffed Bell Peppers
, rediscovering something that I hated as a child. I think it may have been the minute rice that my folks used or maybe the peppers weren't par-boiled. Nonetheless, I loved the recipe which I found at
What's Cooking Chicago
? This time, I followed a recipe from
Finding Joy in My Kitchen
entitled "Unstuffed Pepper Skillet", making only minor adaptations based on what I had on hand and the order I added some of the ingredients. I loved this recipe nearly as much as the real deal, as did my husband. Plus, I was able to throw it together in about half an hour using precooked or leftover brown rice, which is always a plus for a weeknight.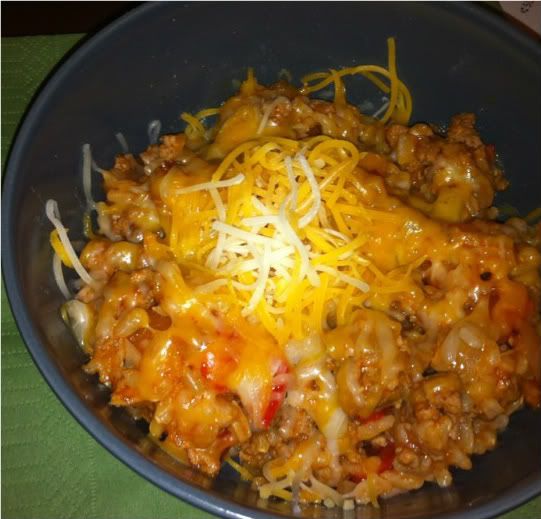 Sorry for the poor picture. I'm still unpacking and have misplaced the digital camera.
Unstuffed Bell Peppers
1/2 lb ground turkey
1 medium onion, diced
2 medium carrots, diced
2-3 medium bell peppers (I used red and yellow), chopped
15 oz can of tomato sauce
1/3 c water (I eyeballed and used about 1/2 a can)
1/2 tsp salt
1/4 tsp pepper
1 tsp oregano
1/2 tsp basil
1/4 tsp chili powder
2 c brown rice, cooked
1 c shredded cheese for serving (I used cheddar)
Saute onions and carrots in olive oil for 2 minutes or so until they begin to become tender. Add turkey, sprinkle with salt, pepper, oregano, and basil. Continue cooking until turkey is browned and cooked through.
Add peppers and cook for a minute.
Add water, tomato sauce, and chili powder. Bring to a boil and simmer, covered, on low for 10-15 minutes until veggies are tender.
Stir in rice and cook on medium-low until heated through, about another 10 minutes.
Serve with a sprinkle of cheese.
Serves 4.