Happy Halloween! I had originally intended to make these
pumpkin chocolate chip bars
, but muffins seemed to be the easier option when I started baking at 11pm. I haven't tried them yet, but the batter tasted yummy and they look beautiful. I used this recipe which I found at
Lynn's Kitchen Adventures
, which is also posted at
Allrecipes.com
.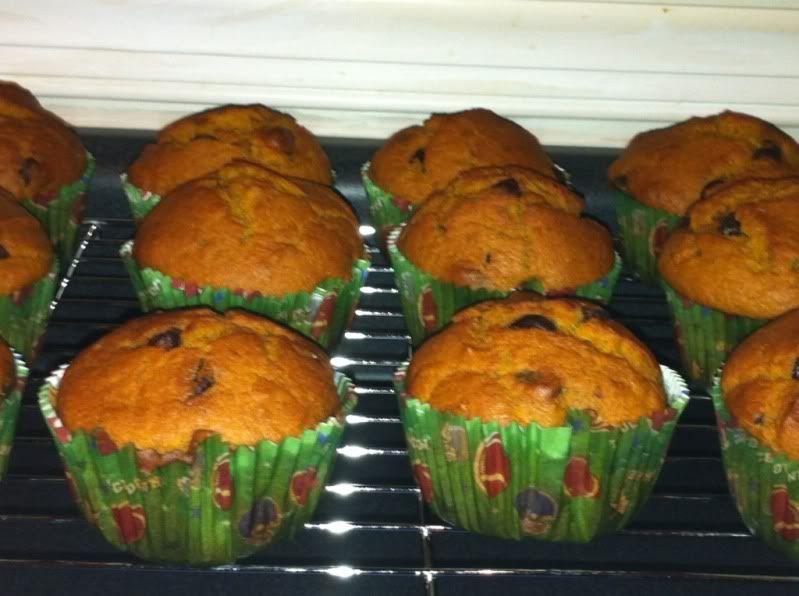 Ingredients
3/4 cup white sugar
1/4 cup vegetable oil (I used canola)
2 eggs
3/4 cup canned pumpkin
1/4 cup water
1 1/2 cups all-purpose flour (I used 1/2 c whole wheat, 1 c all purpose)
3/4 teaspoon baking powder
1/2 teaspoon baking soda
1/4 each ground nutmeg and ground cloves (I subbed 1/2 tsp pumpkin pie spice)
1/2 teaspoon ground cinnamon
1/4 teaspoon salt
1/2 cup semisweet chocolate chips
Directions
Preheat the oven to 400 degrees F. Prepare muffin pan.
Mix sugar, oil, eggs. Add pumpkin and water.
In separate bowl mix together the baking flour, baking soda, baking powder, spices and salt.
Add wet mixture and stir in chocolate chips.
Fill muffin cups 2/3 full with batter. Bake 20 to 25 minutes.
Makes 12 muffins