If you can believe it, I've actually finished
my entire week's menu
except for the Zucchini Cheese Soup which is going in the pot today! I've taken pictures of everything and will hopefully post them in individual posts soon. Last night we had
Chicken Brown Rice Bake
which I found at
Finding Joy in My Kitchen
. Basically, it's a light creamed chicken and rice dish (with veggies, of course), which is the perfect comfort food for a gloomy day. It's a great recipe using ingredients from the freezer, but also worth the effort if you want to make it all from scratch. Here's my version, which increases the amount of mushrooms, uses butter and olive oil, cooked rice, and a bit of seasoning.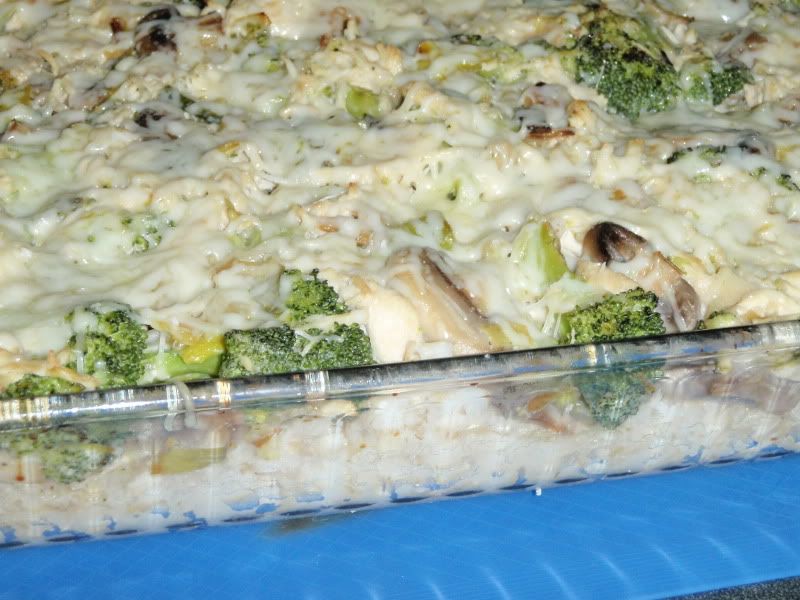 3 c cooked brown rice
2-3 c cooked chicken, shredded (see note)
1-2 TBS butter
16 oz mushrooms, sliced
12 oz broccoli (fresh or frozen)
1 large onion, diced
1 large leek (white and green), sliced
2 T corn starch
1 C half and half + 1 TBS
1 c chicken broth
1 tsp garlic powder
1/2 C Parmesan cheese, grated
salt, pepper, olive oil
Preheat oven to 350 degrees.
Saute leeks and onion in olive oil until tender (about 5 minutes). Melt in butter and add mushrooms. Cook until most of liquid has evaporated. Season with a sprinkle of salt and pepper.
Toss in broccoli and broth. Simmer for 5-10 minutes until broccoli becomes tender. Add chicken and garlic powder. Give a good stir and cook for a minute or two.
Combine corn starch with 1 TBS half and half. Stir into mixture and cook for another minute or two. Stir in half and half and cook until mixture thicken a bit (result should be creamy).
Spread cooked rice into the bottom of a 9 x 13" pan. Top with creamy mixture. Cover and bake for 30 minutes.
Top with parmesan cheese and bake an additional 5-10 minutes until cheese is melted and golden brown.
Serves 4-6.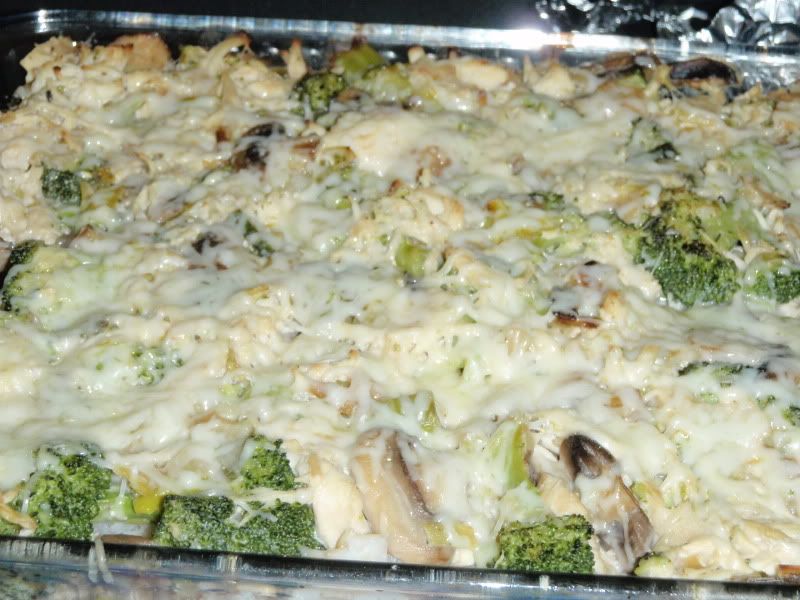 NOTE
: I learned that you can cook chicken breasts, even frozen ones, in steamer bags. Place 1-2 chicken breasts per bag and cook for 7-10 minutes until cooked through.