Why the long silence? The last three months have been overcome with moving--a move should never take that long, but this one has mainly because due to factors mostly beyond our control...mostly. Here's the long and torrid tale (and a card):
I packed up my apartment in late August and shipped off my Cricuts (and husband) to the mainland while I stayed behind, working throught mid-September. I did keep my Cricut Create and a few scraps of paper and cardstock, but crafting was a challenge. I had forgotten to keep useful tools like adhesives and sentiment stamps so wound up buying substandard items from Walmart and Ben Franklin. I was able to make this cute little guy using the Create a Critter cartridge and my gypsy.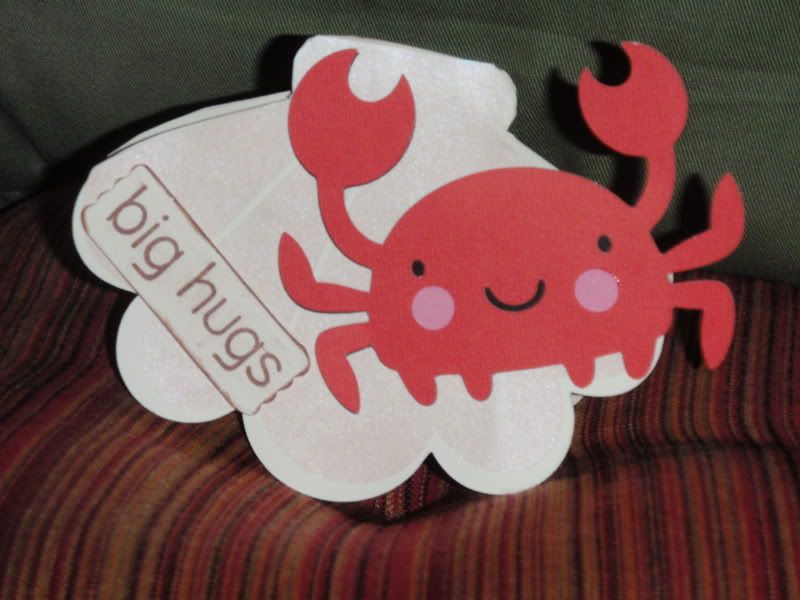 Here's the inside. Unfortunately, I don't remember what the name of the stamps set is, but I believe it is from Hero Arts.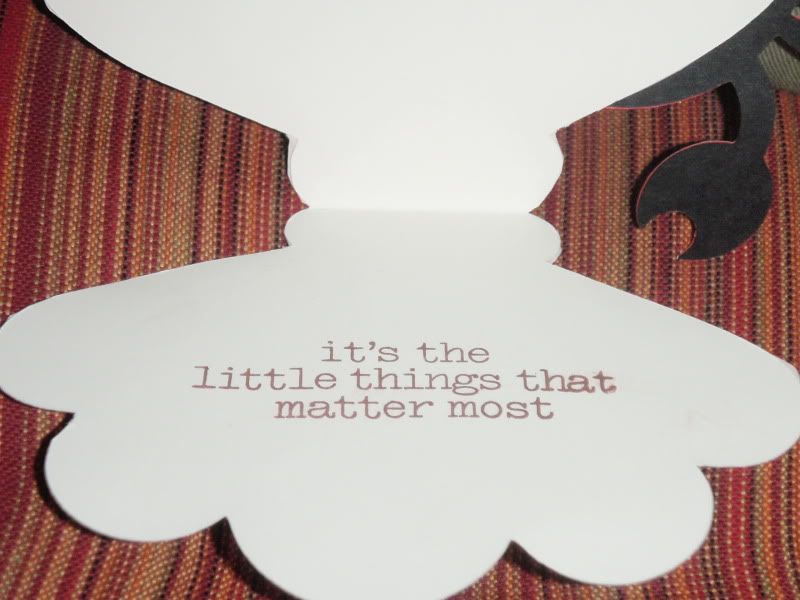 Next in mid-September, I left Hawaii for DC, arriving a good two weeks before my husband was scheduled to arrive and a good three weeks before our household items were scheduled to arrive from Hawaii--plenty of time to get things settled, right? Finding an apartment took only a weekend as there wasn't a whole lot to choose from in the geographic area north of Quantico that we wanted--most folks live south of the base where I am told the schools are better, but the congestion is terrible and the quality of schools isn't a concern at the moment. Plus, I'm far closer to good shopping where we're living now, yet still in a nice residential community. Anyway, after finding a place to live, I zipped over to Chicago to arrange movers for all my things which were
packed up last October
when I sadly left my apartment in Chicago with the wonderful lake view.


As I predicted, I was able to arrange for movers from Chicago to have my things delivered in Virginia in two weeks or the first week of October...the only probably was that the apartment would not be ready till mid-October. Here came the first delay, although theoretically that was fine as the Hawaii stuff was scheduled to arrive around then. Little did I know that the "required delivery date" on the household moving paperwork was a joke subject to at least two more delays.

After rescheduling my Chicago movers to late October, nearly a month after my arrival in Virginia, our first delivery of furniture arrived. Unfortunately, my craft room was not in this shipment and to say that I had enough stuff to fill an apartment one and a half times the size of the one we rented is an understatement. Thus, it took some creativity and a storage locker just to get a handle on those boxes.

Another two weeks later, and nearly a full month after the first "required by" delivery date, our things from Hawaii finally arrived, Cricuts included. Though we're still climbing over boxes in spots, a good handful from the Chicago delivery, the apartment fairly functional. Thus, today's the day to unpack the craftroom with the goal of getting in some quality crafting time tomorrow!