I absolutely love my
turkey meatball recipe
--that recipe really turned me on to meatballs despite being a pasta fan. Thus, when I saw
this recipe
at
Finding Joy in My Kitchen
, I leaped to try it. Unfortunately, they turned out rather dry. Maybe I over-cooked them? Maybe I didn't use ground beef with enough fat in it? (I used 93/7). Maybe I shouldn't have added a bit of cheese? Maybe I should have sauted the onions as I do in my turkey meatball recipe. With all these things to adjust, I'm posting the recipe.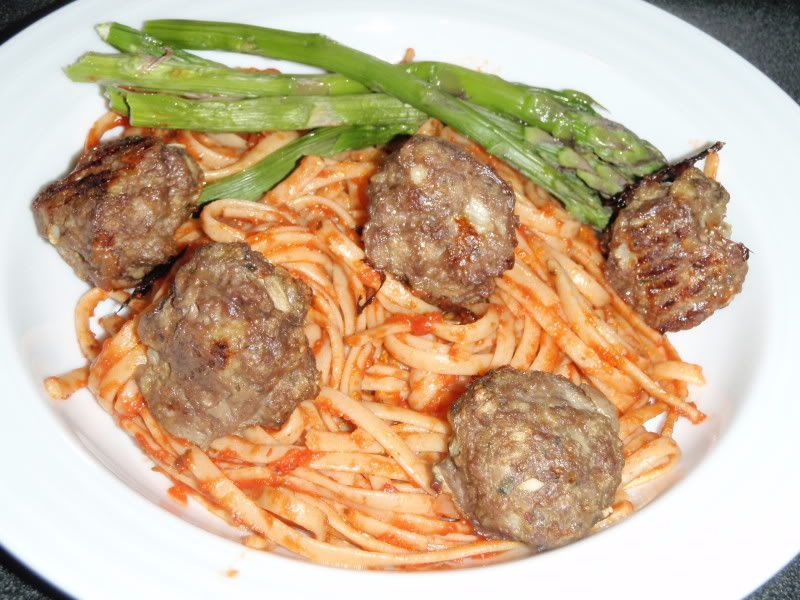 1 lb. ground beef
1 egg
1/4 c onion, minced
2 cloves garlic, minced
1 tsp. parsley
1 tsp. basil
1 tsp. dried, minced garlic (or 2 fresh cloves)
1/4 C panko bread crumbs
1/4 c parmesan cheese, shredded
salt & pepper
Pasta
3-4 C spaghetti sauce
Preheat oven to 400 degrees.
Combine all ingredients except pasta and sauce. You may wish to first saute that onions and garlic.
Bake on a cookie sheet covered with parchment paper for 20-25 minutes.
Serve over pasta and sauce.
Serves 2-4