Happy Friday! Today is a two-for-one recipe. From
last week's menu
, one of the few dishes I had yet to try was the
creamed spinach recipe
from
One Perfect Bite
. But you can't have creamed spinach by itself, now can you? Having already grilled the flank steak with roasted parmesan potatoes the night before, I opted for simple grilled chicken breasts with couscous. As I was waiting for the chicken to defrost, I started thumbing through the
Our Best Bites cookbook
, which is quite a nice basic cookbook. In it was a very simple recipe for teriyaki sauce. Ta-da, dinner!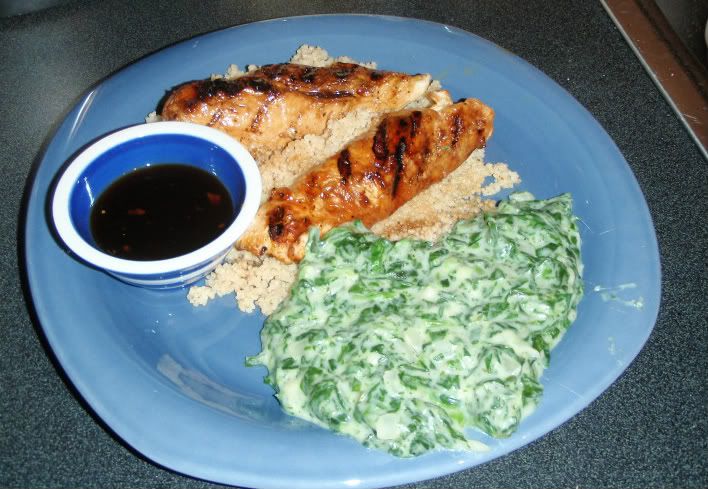 Both recipes whipped up very simply with minimal prep-work. I made the creamed spinach exactly except I used frozen spinach and added a handful of parmesan cheese. Quite yummy. As for the teriyaki sauce, I was missing the powdered ginger so I added a pinch of crushed red pepper. The end result was tasty, but a trifle sweet, so when I make it again, I will cut the amount of sugar by a third to a half.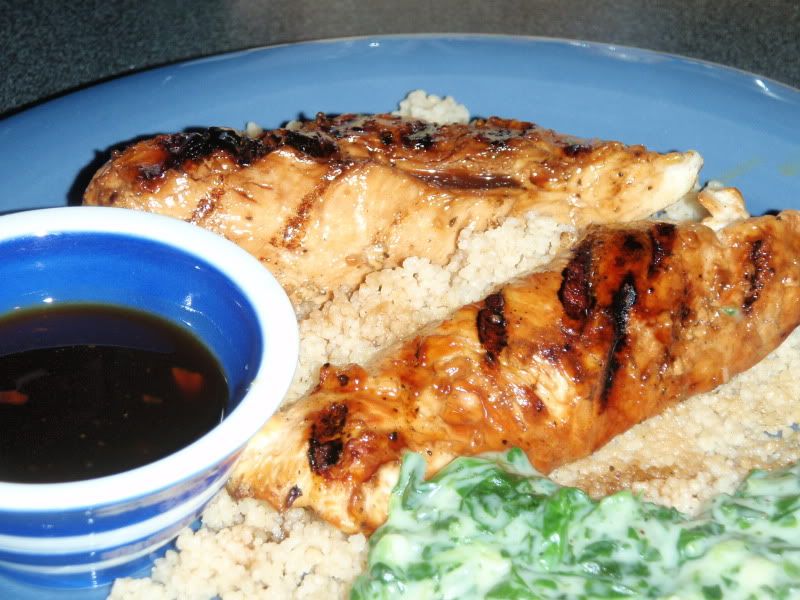 Easy Teriyaki Sauce
(from
Our Best Bites
)
1/4 c sugar
1/2 c soy sauce
1/4 c cider vinegar
2 cloves garlic, minced
1/2 tsp ground ginger
1/4 tsp crushed red pepper
1/4 tsp black pepper
1 tbs cornstarch
1 tbs cold water
Bring sugar, soy sauce, vinegar, and spices in a saucepan over medium high heat to a boil until sugar is completely dissolved.
Meanwhile, combine cornstarch and cold water with a whisk. Stir into sauce once you've got a full boil. Lower heat and cook until thickened.
Use as a marinade, brush sauce for grilling, or dipping sauce.
Creamed Spinach
(from
One Perfect Bite
)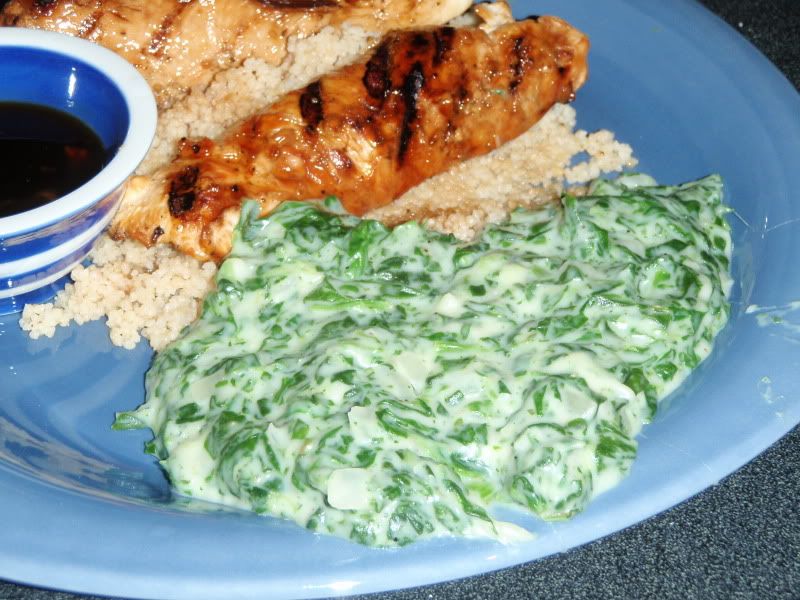 1/2 c butter
8 tablespoons flour
1/2 of a medium medium onion, finely diced
3 cloves garlic, finely minced
2 cups milk
Salt and pepper, to taste
1 pinch ground nutmeg
24 ounces baby spinach
1/2 c parmesan, shredded
Melt 1 stick of butter in a pot. Sprinkle in flour and whisk together. Cook over medium heat for five minutes or until light golden brown. Add onion and garlic and stir together, cooking for another minute. (
Note:
The next time I try this recipe, I may saute the onion and garlic first.) Pour in milk, whisking constantly, and cook for another five minutes until a thick sauce has formed.
Stir in spinach and nutmeg. (If spinach is raw, cook in 3 tbs of butter until wilted. If frozen, cook in microwave with a few tbs of water, then drain thoroughly before adding). Melt in cheese.
Season with salt and pepper.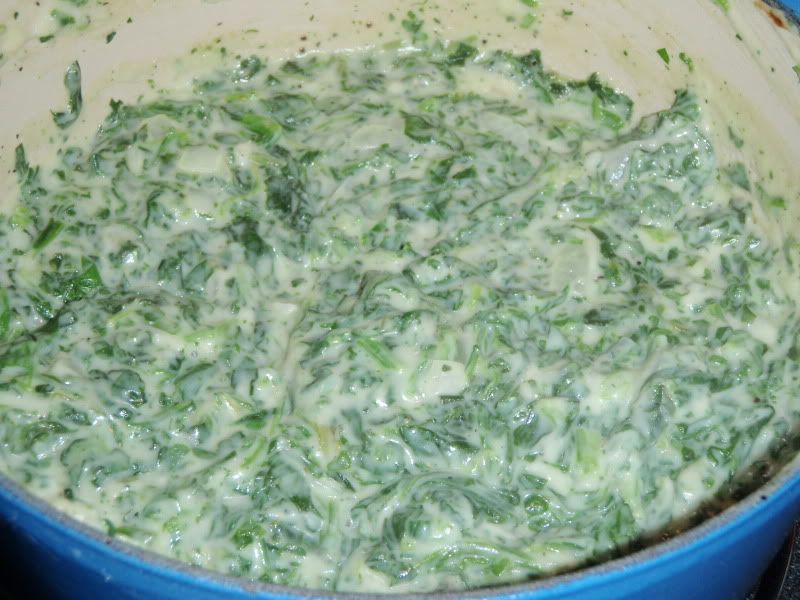 Serves 4-6