We've been eating a whole lot of cheese lately, from pre-schredded to the gourmet. Since they're quick and easy, quesadillas have been a go-to snack of mine for much of this year. Affordable prices at the commissary has made those bagged, pre-shredded cheeses irresistible.
As for the fancier cheeses, on Saturday, I explored our local
Wegmans
and after much effort, purchased a selection of interesting snacking cheeses of which I don't remember the names but believe two were French (a double-creme brie and something else) and the third a Machengo, domestic, I think. I also bought the usual Fontina, Mozzarella, and Parmesan-Reggiano for this dish. This was my first visit to a Wegmans since I'd lived in Baltimore several years ago. This location, and possibly all Wegmans these days, is a peculiar mix of a Whole Foods and a Safeway on steroids. Like a Whole Foods, the produce section was excellent with a good mix of organic and non-organic at quite decent prices. The cheese and meat counters were on a smaller scale than most Whole Foods, but still quite nice. There were bulk grains, teas, and spices. Then came the Safeway-esque part--cosmetics, tolietries, bulk paper goods, and random household goods littered the store. Also, most frustratingly, everything seemed to be in multiple places--e.g. eggs, cheeses, grains. I could understand separating the the organics from the ordinary, but this was just random. Suffice it to say that despite my relatively short shopping list, I was forced to go up and down many aisles. Though I found many nice things, I'm not sure I will be making the effort again too soon.
On to today's recipe which is adapted
this recipe at MyRecipes.com.
After purchasing a couple of eggplants on an impulse buy as they were flagged as the "Manager's Special", I included two eggplant dishes on
last week's menu
. If you're wondering why there hasn't been a Week 4 menu yet, that's because we're still working on last week's. Anyway, this dish was fantastic! I'm not sure how much of it was this recipe or the Classico Roasted Garlic pasta sauce I used, but I couldn't get enough of this dish.
Eggplant Parmesan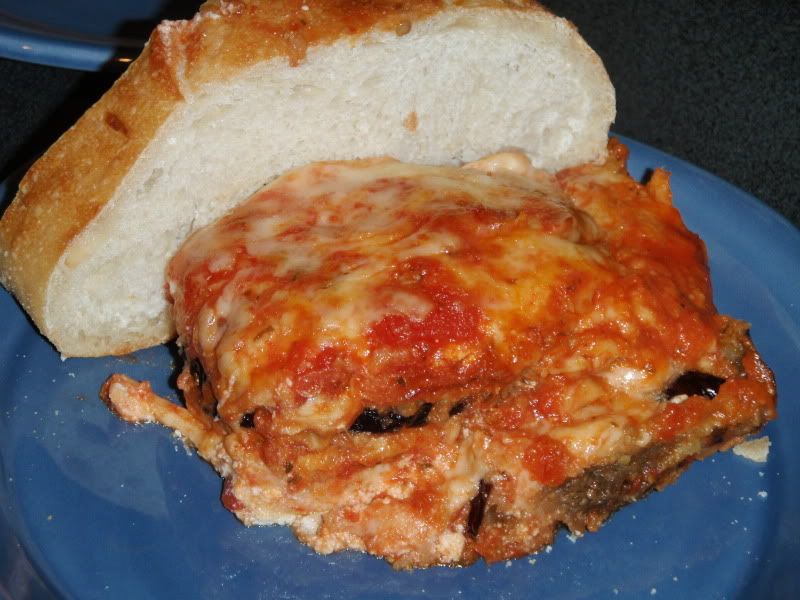 For the Eggplant:
2 large eggs, lightly beaten with 1 tablespoon water
1 c panko breadcrumbs, whole wheat if available
1/4 cup (1 ounce) grated fresh Parmigiano-Reggiano cheese
1-2 large eggplant(s) (about 1 lb), sliced into 1/2-inch-thick
Filling:
1/2 cup fresh basil or 1/2 tsp dried
1/4 cup (1 ounce) grated fresh Parmigiano-Reggiano cheese
1/2 teaspoon crushed red pepper
1 large clove garlic, minced
8 oz ricotta cheese
1 large egg, lightly beaten
2 cups favorite pasta sauce
1/4 teaspoon salt
8 ounces thinly sliced mozzarella cheese
3/4 cup (3 ounces) grated fontina cheese
1. Preheat oven to 375°.
2. Combine 2 eggs and 1 tablespoon water in a shallow dish. Combine panko and 1/4 cup Parmigiano-Reggiano in a second shallow dish. Dip eggplant in egg mixture; dredge in panko mixture, pressing gently to adhere and shaking off excess. Place eggplant 1 inch apart on baking sheets coated with cooking spray. Bake at 375° for 15 minutes or until golden, turn and bake for another 15 minutes.
3. To make filling, combine basil and next ingredients (through egg).
4. To assemble, spoon 1/2 cup pasta sauce in bottom of a square glass baking dish (9") coated with cooking spray. Layer half of eggplant slices over pasta sauce. Sprinkle eggplant with 1/8 teaspoon salt. Top with about 1/2 cup pasta sauce; spread half of ricotta mixture over sauce, and top with a third of mozzarella and 1/4 cup fontina. Repeat layers once, ending with about 1 cup pasta sauce.
5. Cover tightly with aluminum foil coated with cooking spray. Bake at 375° for 35 minutes. Remove foil; top with remaining fontina. Bake at 375° for 10 minutes or until sauce is bubbly and cheese melts; cool 10 minutes.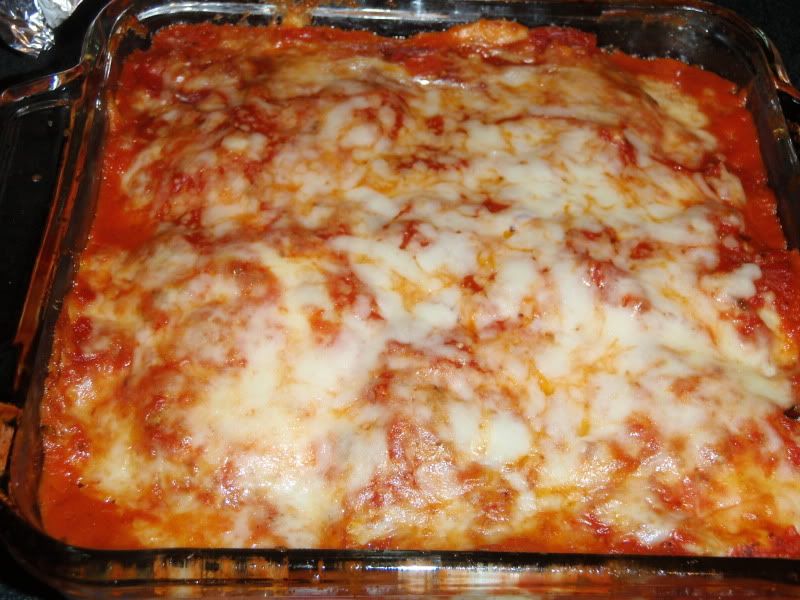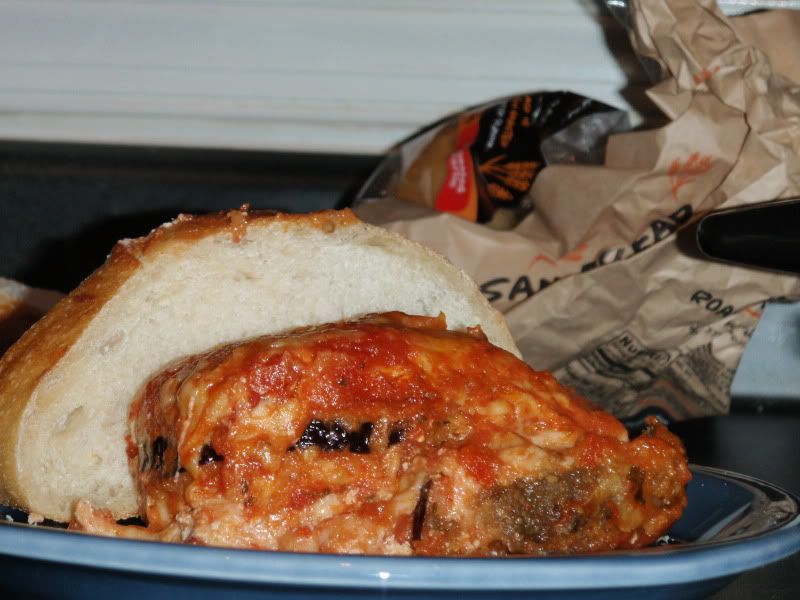 Serves 4