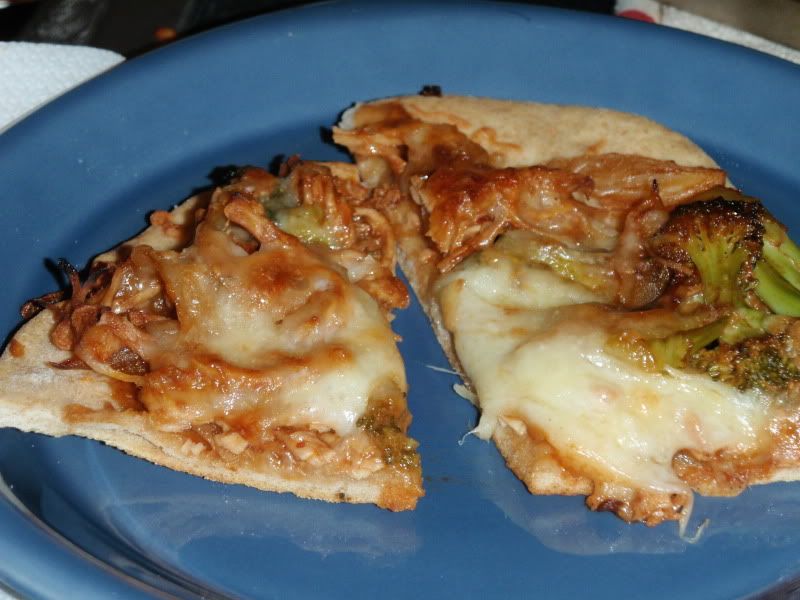 (*Sigh) I made this on Thursday and am just getting around to posting now even though it was fantastic! I really must devise a better method of blogging closer in time to when I actually do the cooking/baking, otherwise things will get lost and I'll forget to share my little tweaks. Anyway, last week while I was making a big batch of
these cookies
to send to my husband's friends, I decided to throw some dough in the breadmaker. Using a recipe from
Bread Machine Bible
, which was my first bread machine book (and favorite), I made dough for 2 large pizzas or 4 medium. Here's the recipe:
Breadmaker Pizza Dough
1 cup + 2 tbs water
2 tbs olive oil
3 1/4 c bread flour (I substituted about 1 1/2 c whole wheat)
1 tsp salt
2 tsp sugar
1 1/2 tsp instant dry yeast
Combine in the order listed or per the directions for your breadmaker. Put salt and sugar in separate corners. Make a well in the center of the flour and place your yeast. Set to "Dough" cycle.
My breadmaker's dough cycle takes just under 2 hours, including preheating time. After the dough was finished, I froze half and placed the other half in the fridge. The next day, I made my favorite bbq chicken pizza using my new method of shredding chicken.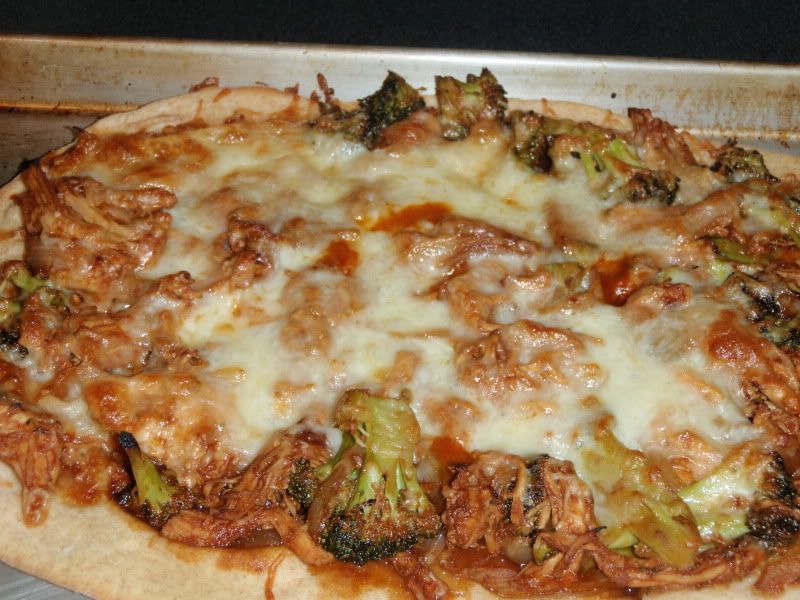 BBQ Chicken Pizza
Note: This is a pizza making method, rather than a recipe. I recently discovered steaming and shredding chicken and am thrilled with the result of soaking it in a sauce. Ingredients and the quantity thereof are completely up to you.
1/2 - 1 lb chicken breasts, shredded
1 1/2 -2 c bbq sauce
3 large crowns broccoli (or 16 oz frozen), chopped
1 large onion, sliced
12 oz mozzarella cheese, shredded
Dough for 1 pizza
Olive oil, salt
Preheat oven to 425 degrees. Roll dough to shape of pizza pan. I used two quarter baking sheets. Liberally pierce dough with a fork (this will prevent dough from bubbling during the prebaking process). Brush with olive oil and sprinkle with salt, if desired. Bake dough for 10-12 minutes until light golden brown. (
Note
: If you use a pizza stone, this step may not be necessary.)
Meanwhile, saute onion in olive oil until tender. Sprinkle with salt. Depending upon the sweetness of your bbq sauce, you could caramelize the onion which will take 10-15 minutes longer. Stir in shredded chicken and broccoli(I pre-steamed my broccoli). Top with sauce, rinsing out bottle with up to 1/4 c water. Cook for 5 minutes until everything in the pan has reached the same temperature or the until the broccoli is tender. Make sure to moderate your heat as not to cause too much of the sauce to evaporate.
Spread meat/sauce/veggie mixture evenly over pizza dough. If you didn't prebake the dough, brush edges with olive oil for a nice browning.
Bake for 10-12 minutes until cheese is golden brown.
Makes 1 large pie or two smaller ones.