One of the best things about Indian food, particularly curries, is the sauce. I love dipping naan in leftover sauce and often make another meal out of that. Naan is also great for eating with hummus. Recently I tried two Indian recipes from
Mel's Kitchen Cafe
. With
Indian Butter Chicken
, I used
this recipe
from
my favorite bread machine cookbook
. It was definitely tasty but the recipe requires yogurt which I don't always have on hand. This recipe uses milk instead, which means I can whip it up at any time--truly a dangerous proposition as these are fantastic! This recipe was served with
Chicken Tikka Masala
and made a marvelous meal. I must warn you that this recipe makes a lot of naan, so next time my goal is to freeze some rather than eating way too many.
NaturallyI used my bread machine, but if you prefer to make the dough by hand, check out the original recipe here for detailed instructions.
Naan (from Mel's Kitchen Cafe)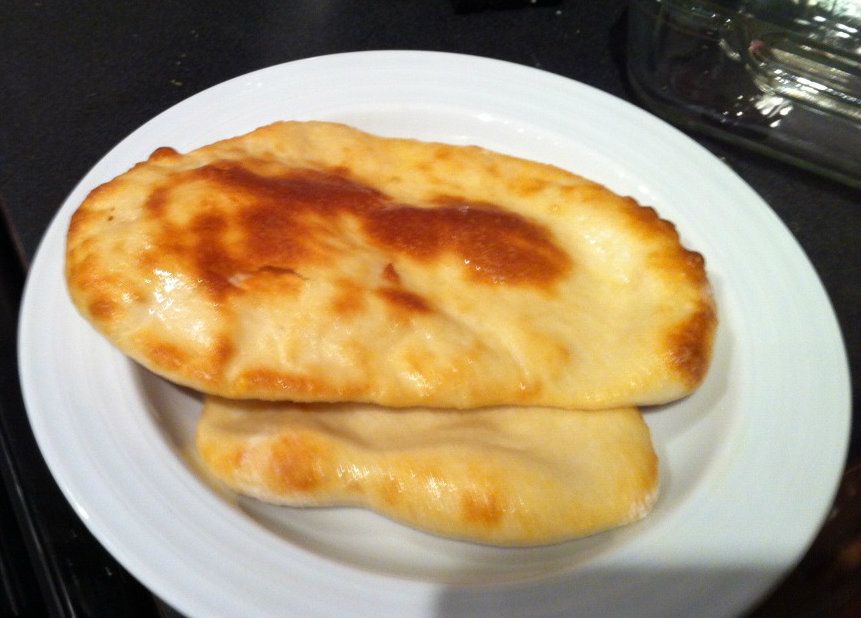 3-4 cups all-purpose flour (I used 3.5 cups)
1 teaspoon salt
1/2 teaspoon active dry or instant yeast
1 1/2 cups milk
1 teaspoon sugar
Melted butter for serving
Combine all ingredients in the pan of your bread machine according to your machine's instructions. Set to "dough" cycle. During the kneading cycle, check on your dough and see that it isn't too wet or too dry. If it's too wet and not coming together nicely, add more flour. If it's too dry, add more milk in 1 TBS amounts.
Turn the dough out onto a floured surface and divide into 12 equal balls. Cover and let rest for 30 minutes.
Preheat oven to 500 degrees F. If you prefer to use a pizza stone or upside down cookie sheet, preheat it with your oven. (I use a pizza crisper which does not need to be preheated.) You can also grill these.
Roll each ball of dough to your desired thickness for naan. I prefer 1/4" to 3/8". An oval shape is characteristic of restaurant naan, but circles are fine.
Bake 2-4 minutes until lightly puffed and golden brown with a bit of charring, if desired. Brush with melted butter before serving.
Makes 12 6-8" pieces