Since last week's
Indian Butter Chicken dish
was a success, I decided to try my favorite dish, Chicken Tikka Masala using another recipe from
Mel's Kitchen Cafe
. Other than making a mess of a nonstick pan (which eventually came clean with a lot of soaking), this recipe was easy and tasted great. Though this dish and last week's look fairly similar, the chicken in this dish is sauteed separately rather than cooked in the sauce. This allows the dish to come together more quickly yet still have a lot of flavor in each bite of chicken. Other than using 1/2 and 1/2 instead of cream and omitting the cilantro, I followed
Mel's recipe
as written.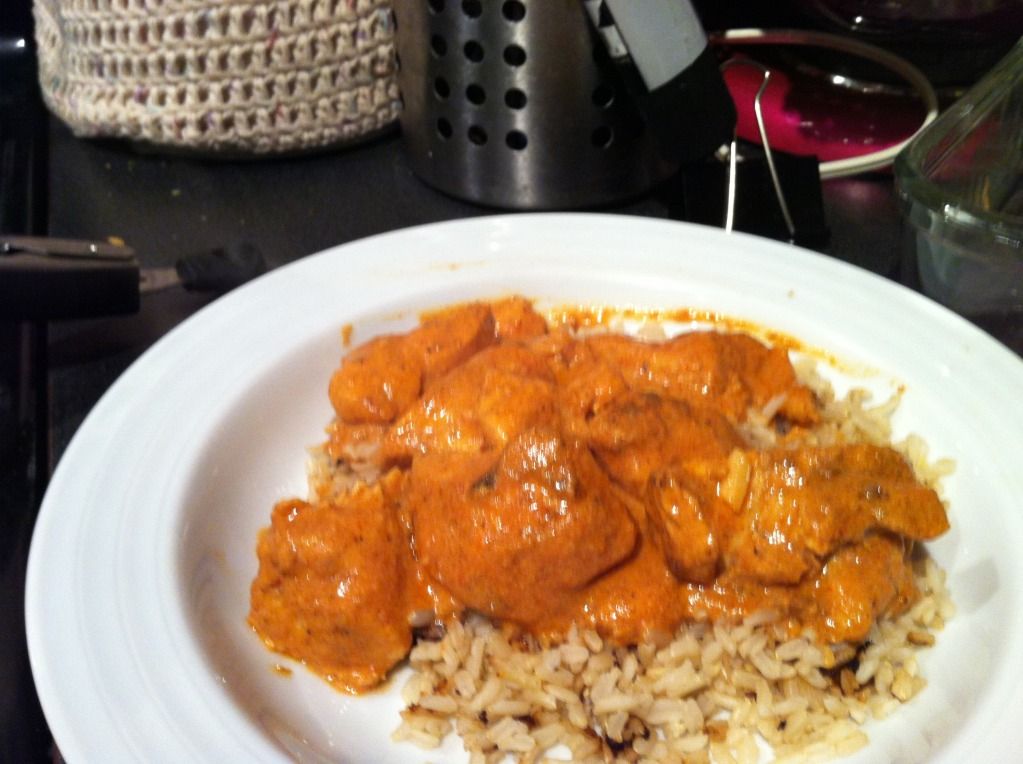 For the Marinade:
1 cup plain yogurt
1 tablespoons lemon juice
2 teaspoons ground cumin
1 teaspoon ground cinnamon
1/2 teaspoon cayenne pepper
1 1/2 teaspoons paprika
2 teaspoons black pepper
1 tablespoons minced fresh ginger
1 teaspoon salt
3 boneless, skinless chicken breasts, cut into thin strips
For the masala:
1 tablespoon butter
1 clove garlic, minced
1 jalapeno pepper, finely chopped
2 teaspoons ground cumin
2 teaspoons paprika
1/2 teaspoon salt
8 ounces tomato sauce
1 cup half & half or cream
For the marinade, combine all ingredients except chicken. Pour sauce over chicken and refrigerate for one hour or up to 8 hours. Grill or cook chicken in frying pan. Discard marinade.
For the masala, melt butter in large skillet over medium heat. Saute garlic and jalapeno for one minute. Season with cumin, paprika and salt. Stir in tomato sauce and cream. Simmer on low heat until sauce thickens, about 20 minutes. Add grilled chicken and simmer for 10 minutes. Serve over rice.
Serves 4