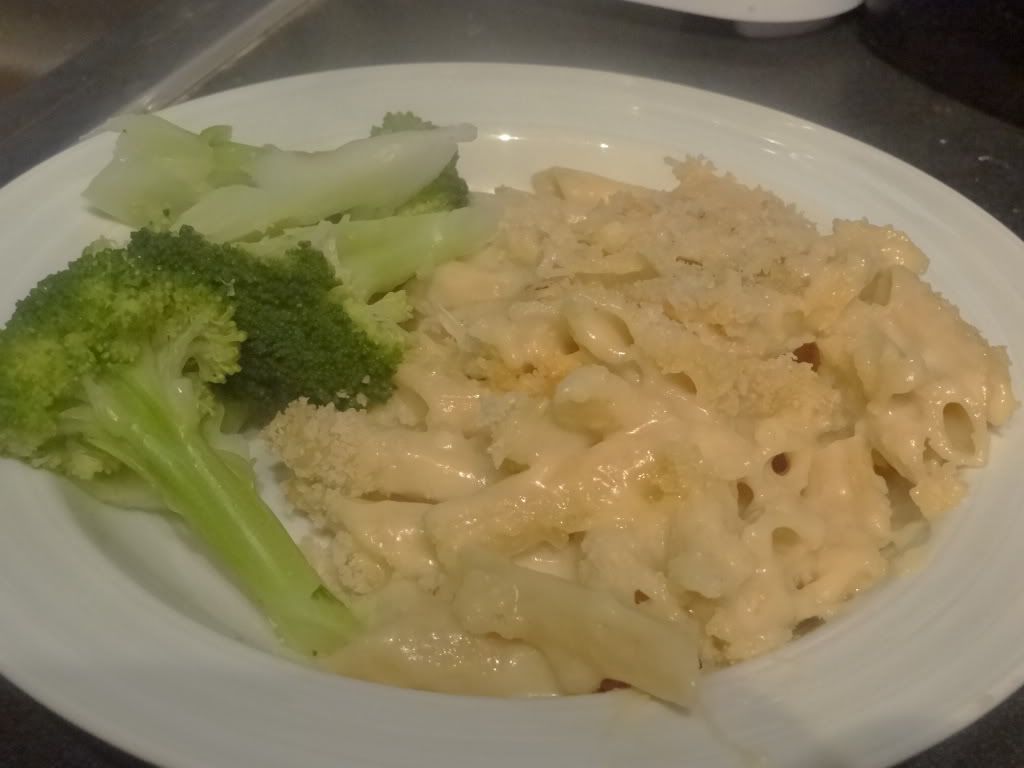 At a farmers' market, we stumbled across very tasty smoked gouda. Though it would have been far healthier to have it with fruit or on a salad, I had a craving for a "grown-up" mac 'n cheese. This recipe, modified from an Allrecipes.com recipe, fit the bill perfectly. Definitely a yummy keeper!
Smoked Gouda Mac 'N Cheese
16 ounces dry pasta (e.g. macaroni, penne)
6 tablespoons butter
1/2 cup all-purpose flour
5 1/2 cups milk, divided
2 1/2 cups shredded smoked Gouda
2-3 cups shredded Cheddar cheese
1 cup grated Parmesan cheese
1/2 cup bread crumbs
1 teaspoon cayenne pepper
olive oil, salt, pepper
1. Preheat oven to 350 degrees F (175 degrees C). Spray or butter a 9 x 13" pan.
2. Cook pasta according to the package directions until just shy of al dente (it will cook a little more in the oven).
3. Melt the butter in a large pot over medium heat. Add the flour to the melted butter and whisk continually for 1 to 2 minutes to make a roux. Whisk 2 cups of the milk into the roux until smooth and then add the remaining milk. Raise the heat to medium-high and continue cooking and stirring until thickened, but not boiling.
4. Stir the Gouda, Cheddar, and 1/2 cup Parmesan cheese into the mixture until melted completely. Season with salt and pepper. Fold the pasta into the sauce to coat. Pour the mixture into a 9x13 "baking dish.
5. Stir 1/2 cup Parmesan cheese, the bread crumbs, and cayenne pepper together in a small bowl; sprinkle over the macaroni. Drizzle the olive oil over the bread crumbs.
6. Bake in the preheated oven until golden and bubbly, about 30 minutes. Allow to rest 10 minutes before cutting.
Serves 6