This recipe was adapted from Bon Appetit most recent issue (July 2009, I think).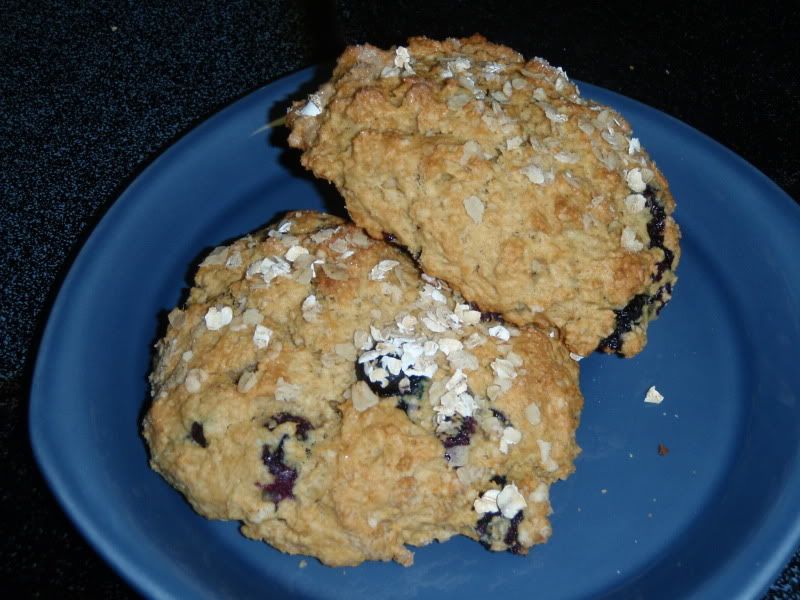 2 c all-purpose flour
1 c whole wheat flour
1/3 - 1/2 c dark brown sugar
4 tsp baking powder
1.5 tsp baking soda
1 tsp kosher salt
11 Tbs butter, unsalted
1 c + 3 T oatmeal
1 c fresh blueberries
1 3/4 half and half (I used 1 c heavy cream and 3/4 c skim milk)
1 tsp vanilla
4 tsp granulated or raw sugar
1. Preheat to 350 degrees. Line 2 baking pans with parchment paper.
2. Combine flours, brown sugar, baking soda, baking powder, and salt in mixer bowl (or food processor). Mix in room temperature butter until you have a sandy mix. Stir in 1 cup of oatmeal and blueberries.
3. In a separate bowl, mix liquids. Gradually combine liquid and dry mixtures until the dough comes together.
4. Drop by 1/2 cup portions onto the prepared baking sheets, spacing 3 inches apart. Sprinkle tops with the remaining oatmeal and sugar.
5. Bake 15 minutes, then reverse pans if on different racks, and bake 15 minutes more or until a tester comes out clean.
6. Cool on wire rack.
Makes 10-12 scones.