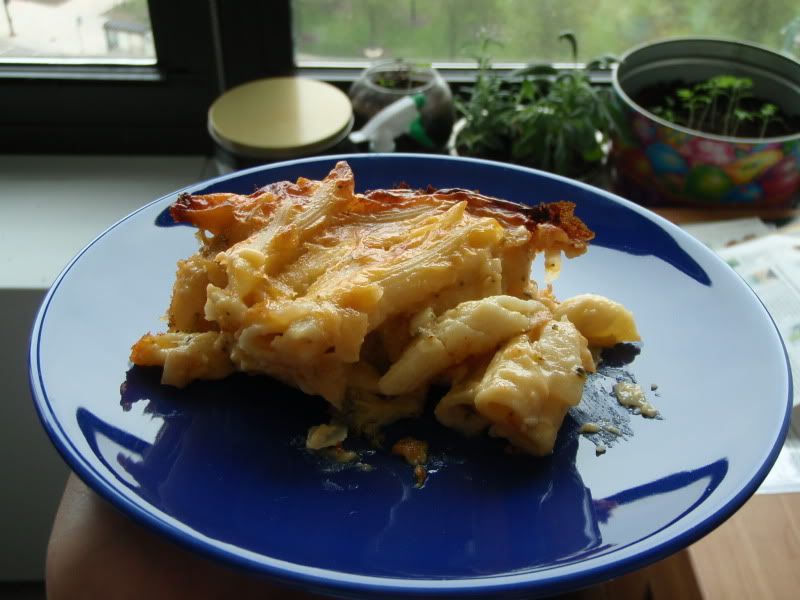 Ingredients:
1 cup broccoli, blanched or lightly steamed (spinach or another green works too)
1 medium onion, diced
2-3 cloves garlic, minced
3 T butter
1/3 c flour
3 c milk
3-4 c shredded cheese (cheddar, gruyere, etc)
1/4 tsp cayenne pepper
1/2 tsp powdered mustard
salt and pepper to taste
1 egg, beaten
1 lb box of pasta (penne, elbows, farfalle, rotini)
Directions

1. Cook pasta according to directions on package, leaving al dente (firm). Drain and set aside
2. Saute onion in olive oil until tendered. In the last minute or two, add garlic and blanched broccoli. Set aside.
3. Melt butter in saucepan over medium to medium-high heat. Mix in flour and cook for 1 minute. Whisk in milk and cook until bubbly (about 5 minutes). Whisk in cheese, stir until melted. Add in mustard, cayenne, and season with salt and pepper.
4. Mix sauce with pasta, onion mixture, and egg. Add additional salt and pepper if necessary.
5. Bake, uncovered, in a 350 degree oven for 45-60 minutes until lightly golden brown.