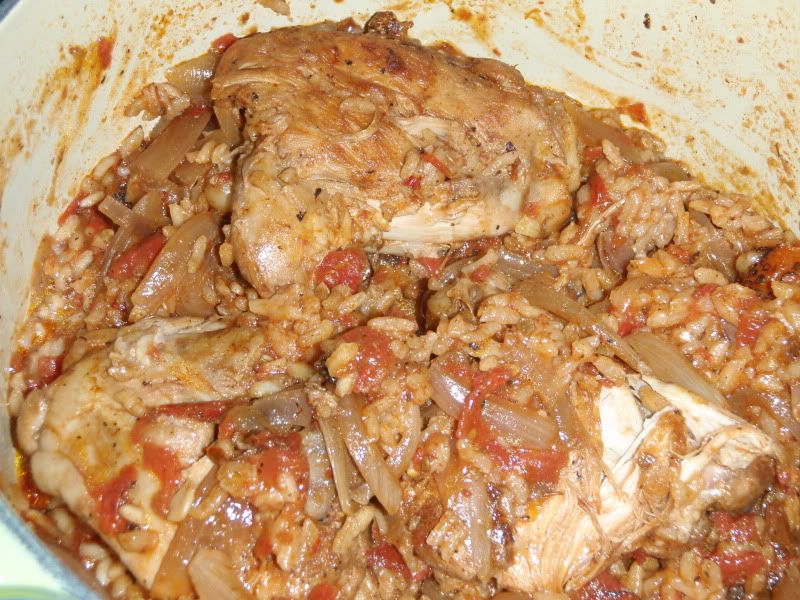 Adapted from July's Everyday Food, tasty with just the right amount of heat.
4-6 skinless chicken thighs
1 large red onion, thinly sliced
3-4 garlic cloves, minced
1/2 tsp cumin
2 canned chipotle chiles in adobo, roughly chopped
1 14 oz can fire-roasted tomatoes or 2 large tomatoes, coarsely chopped
3/4 c white rice
1 cup chicken broth
water
salt and pepper
olive oil
1. Coat bottom of a dutch oven with olive oil and heatover medium high heat until sizzling. Season chicken with salt and pepper. Brown chicken on both sides, about 6 minutes. Remove chicken from pan.
2. Adding more oil if necessary, saute red onion on medium heat until soft. Add a splash of chicken broth to loosen brown bits from the bottom of the pot.
3. Add garlic, cumin, and chipotle chiles and cook for 2 minutes. Add tomatoes and 1 tsp salt. Cook for a few minutes until the mixture begins to bubble. Pour remaining chicken stock into the tomato can or 1 cup measuring cup adding water if necessary. Bring to a boil. Return chicken to the pot and simmer for 25 minutes.
4. Remove a couple pieces of chicken. Add rice and mix well. Return chicken to the pan, cover, and cook until rice is tender, about 30 minutes.