This recipe was closely adapted from this one posted by CookingMommaofThree at BakerSpace.com. The primary change I made was to omit the wheat germ since I didn't have any. Otherwise, I stayed true to her awesome recipe.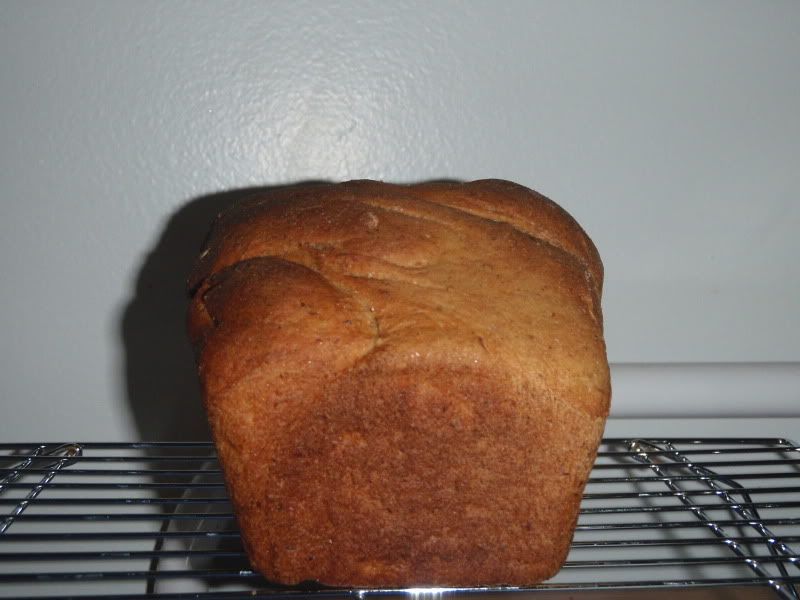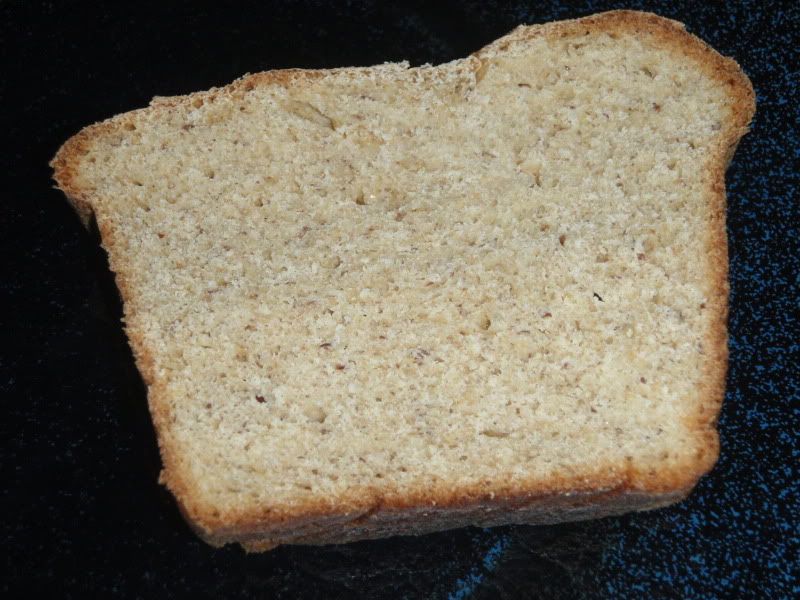 This recipe makes 3 loaves
1 c. warm water (about 110 degrees)
4 1/2 t. yeast
1 T. + 1/3 c honey
1/4 c. butter
1 1/2 T. salt
2 c. skim milk
5 c whole wheat flour
1/2 c. ground flax seed
1/2 c all purpose flour (or wheat germ)
1 1/2 bread flour (up to 3 c if necessary)
1) In bowl of a stand mixer, combine water, yeast and 1 T. honey. Set aside.
2) In a microwave safe bowl, combine remaining 1/3 c honey, butter, and salt. Heat until butter is completely melted, about 30 seconds - 1 minute. Stir in milk. Add the milk mixture to yeast mixture.
3) Using the paddle attachment, add 1 c flour at a time until well mixed. Add ground flax see and last 1/2 c of flour or wheat germ.
4) Unless you have an extra-large stand mixer (more than 5 quarts), set half of the dough aside for the kneading step. Change to dough hook.
5) Add 1/2 c bread flour at a time until dough no longer sticks to bottom of bowl. (I think I only added about 1.5 c total to all my dough). Knead 8 minutes. Repeat with any dough that was set aside. Knead both halves of dough together.
6) Place dough in a large bowl coated with cooking spray. Turn dough to coat. Cover with a clean dish towel and place in a warm place until doubled in size. (About an hour for me).
7) Punch down dough and divide until three equal pieces. Shape into loaves and place into bread pans for second rise. (I only have two loaf pans, so one was left free-form as will be shown below).
8) Cover with dish towel and let rise in a warm place until "doubled" or about an inch rise over your loaf pan.
9) Bake in 350 degrees oven for 35 minutes until golden brown.
10) Remove from oven and let cool on wire racks for 10 to 15 min before removing from loaf pans to cool completely before slicing.