This recipe was inspired by one found in Beth Hensperger's Not Your Mother's Slow Cooker Recipes for Entertaining, but I left out both the named ingredients, so it was really just a savory, mustardy, vinegar bbq sauce. Served with garlic-parmesan mashed potatoes which were very yummy.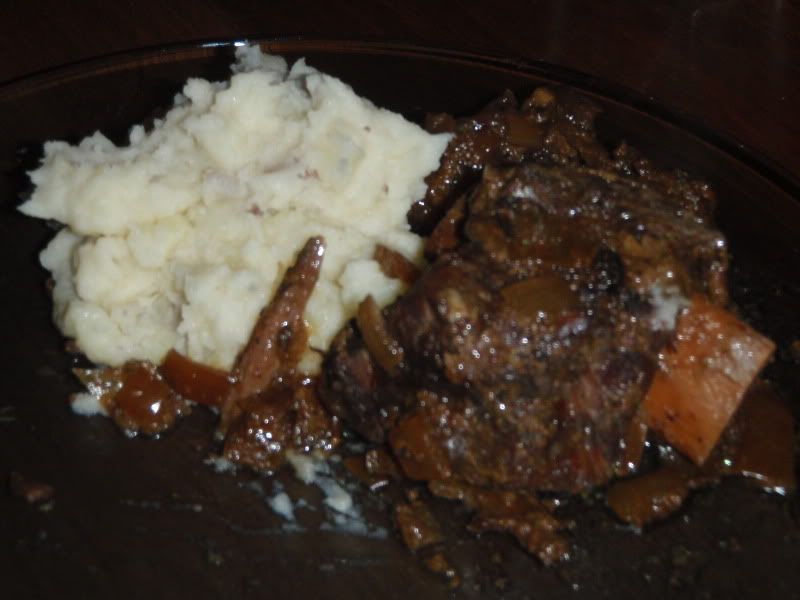 2 lb short ribs
1/4 c Dijon mustard
2 Tbs beef broth
2 Tbs soy sauce
2 Tbs Worcestershire sauce
1 Tbs olive oil
1 Tbs cider vinegar
2 cloves garlic, crushed
3 Tbs brown sugar
1 tsp dried thyme
1/4 tsp (or less) cayenne pepper
2 medium onions, chopped
salt and pepper
olive oil
Combine mustard through cayenne pepper with a whisk. Pour into bottom of the slow cooker. Salt and pepper short ribs liberally. Brown in a olive oil on both sides.
Place short ribs in sauce, arranging so these are submerged. Sprinkle onions on top.
Cook for 1 hour on high and then 6-7 on low until meat is tender.
Serves 4.