This recipe appeared in the November 2009 BBC GoodFood. I lightened it a bit, left out certain add-ins, and gave them the same treatment my vanilla cupcakes received in the previous post. You must have an electric food scale for this one.
Cupcakes

140g light muscovado sugar (brown sugar)
100g self-raising flour
50g cocoa powder
1 tsp baking powder
2 eggs, 2 egg whites
125 ml vegetable oil
3 tbs milk
1/4 c cherry or raspberry preserves
Preheat oven to 350 degrees.
Prepare muffin pan by spraying with cooking spray or using muffin cups.
Whisk together dry and wet ingredients separately. Then stir the two together.
Pour into prepared pan. Bake for 18-20 minutes or until a tooth pick comes out clean.
Cool completely on a wire rack.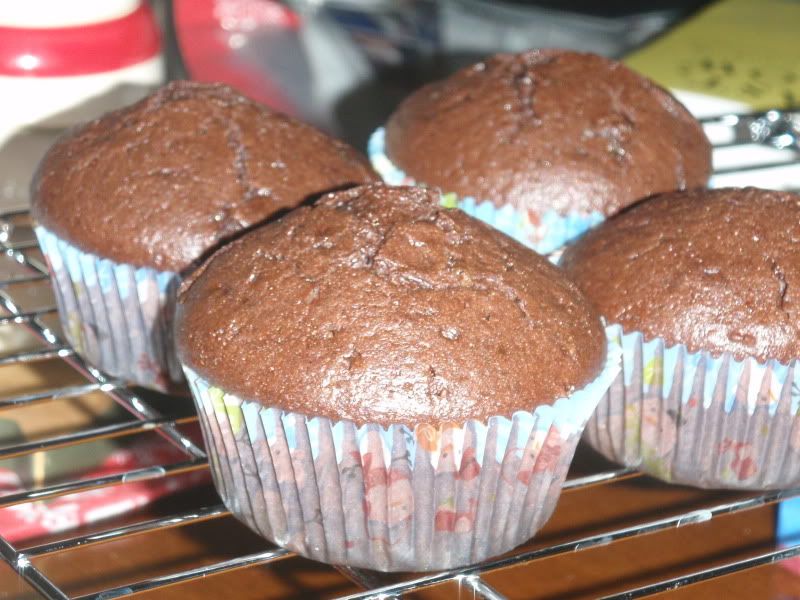 Using a paring knife, cut a 1x1" wedge out of each cupcake. Fill with 1 tsp preserves and then replace removed cake. Frost, if desired.
Chocolate Frosting
1/2 c butter, softened
1 c powdered sugar
1/4 c cocoa powder
2 tbs milk
1/2 tsp vanilla
pinch of salt
Combine sugar, cocoa and salt. Set aside.
In mixing bowl, beat butter until light and fluffy.
Gradually add in sugar/cocoa mixture and milk mixture.
Whip until light and fluffy.
This icing will cover about 2 dozen cupcakes.
Makes 10-12.