Hi everyone, it's breakfast time! My husband's a big potato pancakes/latkes fan but making them from scratch is rather a pain. I last made them
more than a year ago
with tasty results, but it was a lot of grating. Last weekend it occurred to me that since they sell frozen shredded potatoes for hash browns, they just might sell an unseasoned variety. Sure enough, they do! I purchased a generic brand of shredded potatoes that only had a bit of salt-based preservatives. The night before I made them, I measured a little more than 2 cups into a bowl and let them defrost overnight. That morning, they were still a little cold, but not too icy and worked perfectly. I modified
this potato pancake recipe
from Southern Food at About.com mainly to eliminate the deep frying and change up the onion. The original recipe called for adding raw grated onion--a) I hate grating and b) am not a fan of raw onion. Thus, I diced up a small onion and sauted it until golden brown. Worked great!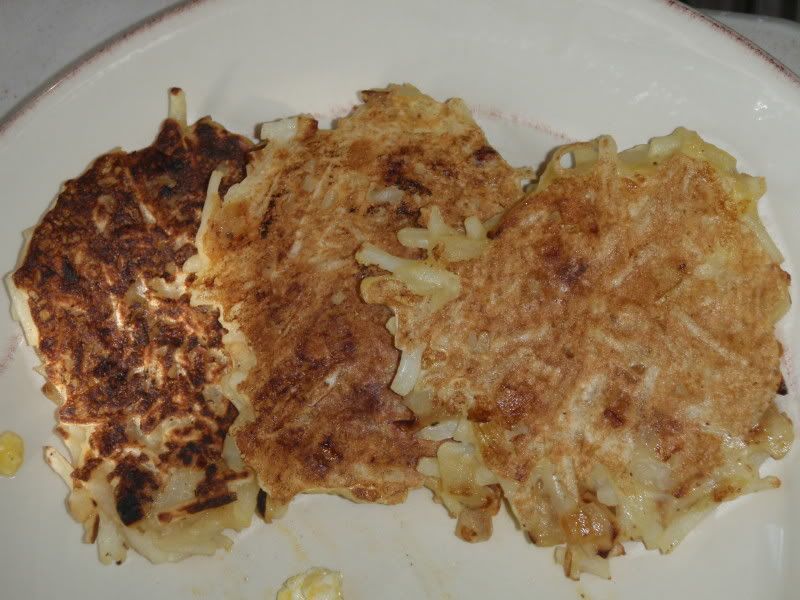 2 cups grated potatoes, about 1 1/2 pounds potatoes
1 medium onion, minced
1/4 cup milk, scalded
1 egg, slightly beaten
2 tablespoons all-purpose flour
1 teaspoon salt
dash pepper
1 teaspoon baking powder
olive oil
Preheat oven to 400 degrees.
In medium skillet, saute minced onion until browned. Set aside to cool.
Pour scalded milk over potatoes. Add flour, salt and pepper, baking powder, and onions. Mix in egg.
On a preheated griddle or in the same pan you used to saute the onions, cook potato pancakes in 1/4 c portions until golden brown on both sides. (I used a muffin scoop, which might be larger than 1/4 c)
Place browned pancakes on a cookie sheet covered with parchment paper. Bake for 10 minutes until thoroughly heated. (This step isn't 100% necessary, but it allowed me to get them off the griddle a bit quicker without worrying about burning.)
Serve with apple sauce, of course.
Makes 6-8 silver-dollar pancakes. Serves 2.