Ah, the first Sunday in March. Time is seriously flying along this year. I know for those of you have seasons, you might be anxious for spring and summer. This being the first winter I've spent in Hawaii since high school, I desperately miss real winter, i.e. snow. Yes, I'm crazy, but you probably knew that.
Anyway, I realized that I had no picture posted of my one of my most frequently made dishes--Mango Chicken Stir Fry. It is my husband's favorite dish. I distinctly remember when we first had it together at what was then a new restaurant at the edge of the mall in Chicago's Chinatown. It was a cute place, called "My Place" or something like that and served a nice selection of Thai and pan-Asian, but was sadly short-lived. Anyway, I had never had mango in a stir fry before and loved the idea, so I had to recreate it. This recipe is a modification of a bunch that I found online many years ago.
Since I don't have a real wok (nor do I want one because I don't have the space to store it or a gas range), I saute the chicken and veggies separately, then combine at the end for the sauce to coat everything and thicken. Enjoy!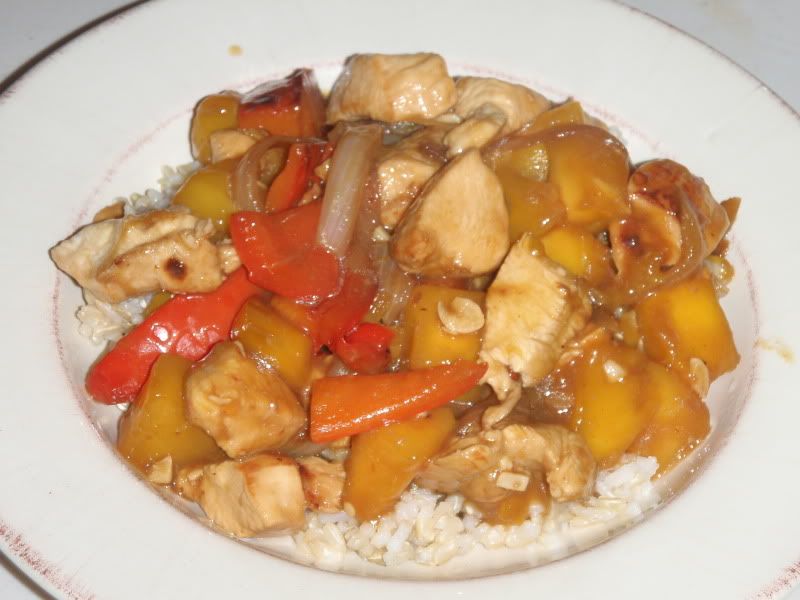 Ingredients
1 large mango (or about 12 oz frozen), sliced or cubed
1 red pepper, sliced
1 yellow or orange pepper, sliced
1 med onion, sliced
1.5 lb chicken breasts or thighs, skinless, cubed
Marinade
2-3 cloves garlic, minced
1.5 tsp sugar
1 T corn starch
1 T rice wine vinegar
2 T soy sauce
1 T canola oil
Sauce
3 T soy sauce
2 T rice wine vinegar
6 oz pineapple juice
.5 tsp crushed red pepper
1 T corn starch.
Whisk marinade together. About 20-30 minutes before cooking, place chicken in the marinade and set aside while you start the veggies.
Assuming you do not have a wok, you will want to cook your veggies and chicken separately. If you do have a wok, follow the directions for your usual stir fry which I think involves cooking the veggies first, then pushing them to the edges of the pan while you do your meat in the center.
Saute onions and peppers until tender. If you start the onions first, then add peppers when onions have just begun to soften, all the veggies will finish at the same time. Whisk the sauce together while you are waiting and set aside. Remove veggies from heat (or the pan if you do not want to dirty another pan) and keep warm.
In heated pan, saute your chicken until golden brown. If your pan is hot, this will only take a few minutes. Cook your chicken about 75% of the way (it will finish cooking in the sauce). Add the mangos and cook until they begin to brown on the edges. You can use frozen mangos, but make sure you cook them until they have defrosted so you do not water down the sauce.
Return the veggies to the pan, along with the sauce. Heat to a near boil, then simmer on low for 10-15 minutes until sauce has thickened.
Adjust seasoning to taste. Serve over (brown) rice.

Serves 4-6.