My husband made a special request for more soups. I know he likes black bean soup, but I've never made it before. After browsing through a dozen or so recipes, this is what I came up with. It's simmering in the crockpot now, so we'll see how it tastes. I thought about adding a jalepeno pepper, but chickened out at the last minute because I know he doesn't like things too spicy.
Updated
: We loved it! This was so simple, and the spices were perfect. I will definitely make this again.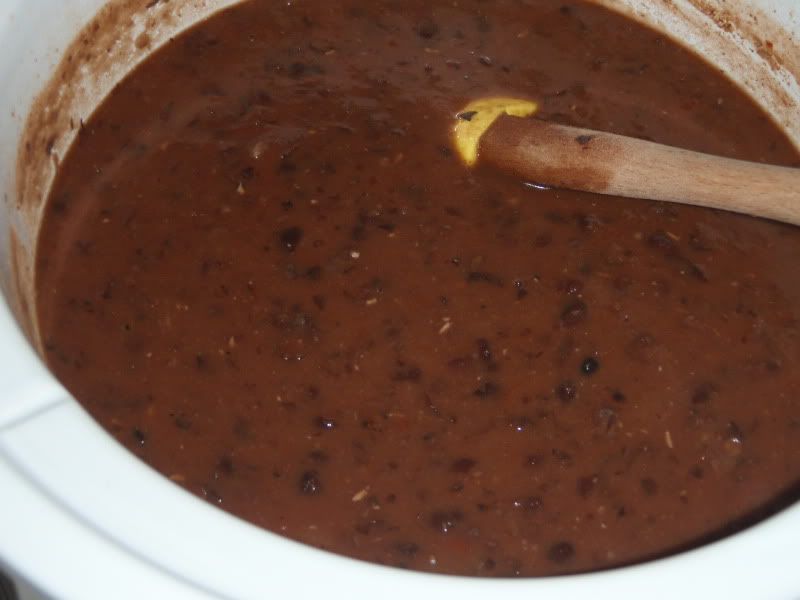 1 lb dry black beans (rinsed and soaked overnight) or 2 15-oz cans
14 oz can fire roasted tomatoes, diced
2-3 cloves garlic, minced
1 medium onion, diced (about 1 cup)
32 oz chicken broth
1 tsp cumin
1/2 tsp salt
1/4 tsp ground pepper
Combine all ingredients in slow cooker. You may add a bit of minced jalapeno pepper, if you like. Cook on low for 8 hours, until beans are tender.
Using an immersion blender, pursee some of the mixture until you have consistency desired. left a few beans whole, but pretty much took the blender through the entire pot.
Adjust seasonings, if necessary.
Serves 4-6