Wow, time flies when I'm not looking! I knew I had skipped a weekend, but not 2 weekends!
I made this recipe at least two weeks ago, possibly during the first week of May because I know Easter made me think of lamb recipes. I modified this leg of lamb with prunes recipe from
A Year of Slowcooking
mainly by swapping in lamb shanks and adding more veggies. Even though it was just me, I ate all four servings and didn't freeze a bit!
(Sorry for the terrible pictures)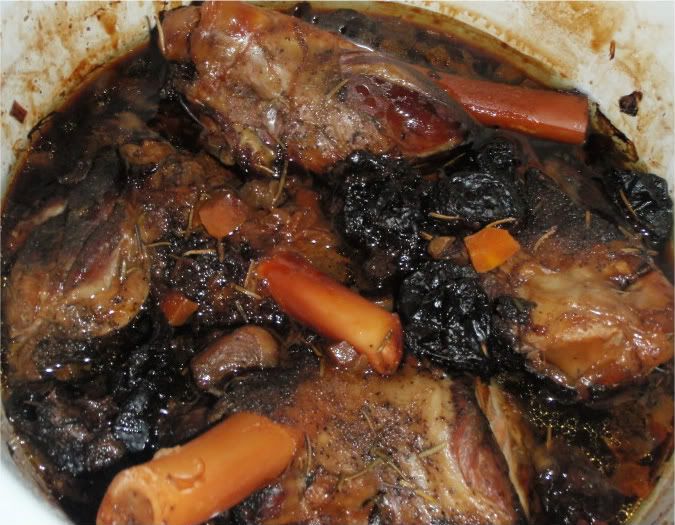 4 good-sized lamb shanks (Note: they're often sold in packs of 2)
2 carrots, diced (about 1/2 cup)
1 onion, diced (1 cup)
1.5 c dried plums (prunes), roughly chopped (a few big handfuls)
1 tsp kosher salt
1 tsp ground pepper
1 tsp dried rosemary
1 tsp cumin
1 cinnamon stick
1/2 c apple juice or white wine
Directions
In a small dish, mix dry spices.
(Optional) Brown lamb shanks in olive oil in a skillet.
Place chopped veggies in the base of the slowcooker. Sprinkle with a small amount of spice mixture, maybe 3/4 tsp.
Rub lamb with remaining spice mixture. Arrange in a circle over veggies. Try not to stack them, if possible.
Toss in prunes and pour in liquid. Add cinnamon stick.
Cook on low for 8 hours or until tender. Mine we perfect after 8 hours of cooking time and several hours on warm because I got home super late from work that day.
Serve with couscous, quinoa, or just some nice crusty bread.
4 servings
Lunch box shot.