This is my first recipe using the GORGEOUS raspberry ice Kitchen Aide stand mixer that my auntie bought me. I will definitely post a picture of the stand mixer later, but you can see it
here
.
I woke up in the mood for muffins. After a quick Google search I found
this recipe at Epicurious.
It's a 1999 Bon Appetit recipe. I modified it slightly by adding whole wheat flour, using a few less chocolate chips, and adding pecans. After looking at the pictures, I probably could have added a few more chocolate chips, although the muffin I munched fresh from the oven had just enough.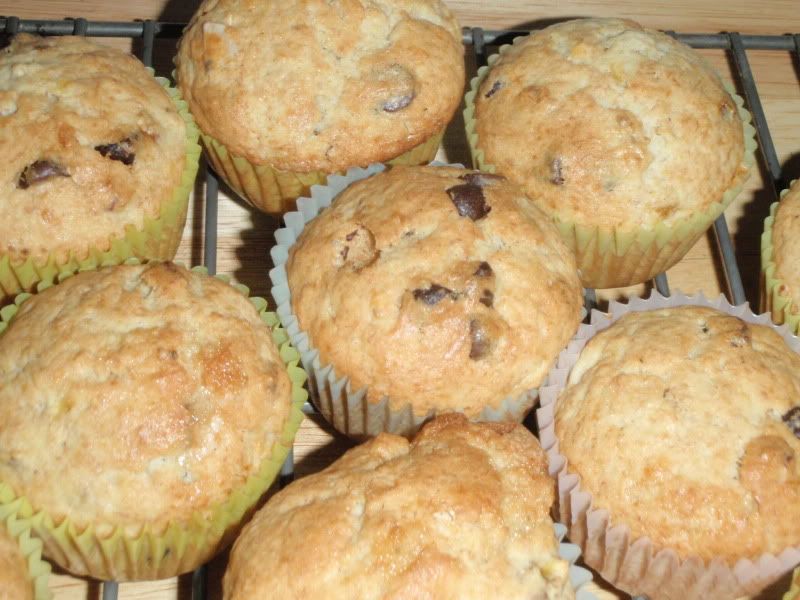 1/2 c whole wheat flour
1 c all purpose flour
1/2 tsp salt
1.5 tsp baking powder
2/3 c sugar
1/2 c butter
1/4 c milk
1 egg
1 c mashed bananas
1/2 c chocolate chips (original recipe calls for 3/4)
1/2 c pecans, chopped
Preheat oven to 350 degrees.
Cream butter and sugar together. Add egg, mixing thoroughly.
In a separate bowl, whisk together flour, salt, and baking powder. Slowly add dry mixture to wet, adding milk, as well. Add mashed bananas, mixing well.
Stir in chips and nuts.
Pour into prepared muffin pan, about 3/4ths full. This is a particularly dense batter, so it took about 40 minutes to bake. The muffins are done when a tooth pick comes out clean.
Makes 12 regular muffins