For no particular reason, I skipped last week's Sunday Supper. I had pictures and recipes to post, but didn't have the urge. Anyway, today's recipe is a super simple item for brunch. I baked a ham last week, taking advantage of the post-Easter sales and had a ton of leftovers. Ham seems to go well in breakfast times, even for those who are not fans of the ham and potatoes dinner. I modified recipes found at
Finding Joy in My Kitchen
and
Simply Recipes
. I went a little light on the cheese and perhaps too heavy on the milk, but it turned out just fine. Definitely a yummy dish that I will make again.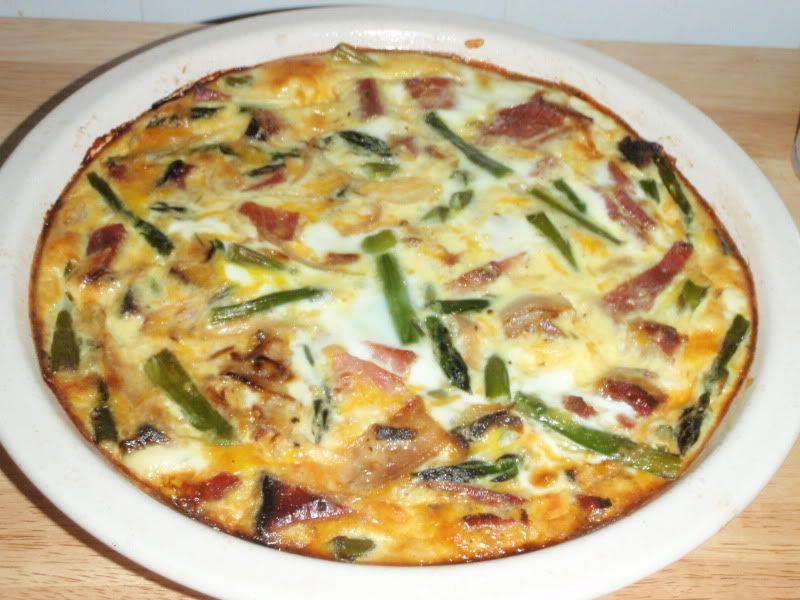 3 eggs + 2 egg whites
1/2 c skim milk
1/2 c 2% milk
1/2 c shredded cheddar cheese
1 c cubed cooked ham
1/2 lb asparagus, cut into 1" pieces and steamed
2 large shallots, thinly sliced, about 1/2 a cup
Olive oil, salt, pepper
Preheat oven to 350 degrees.
Saute shallots in olive oil until softened and beginning to brown. Steam asparagus as you cook your shallots. (I use those awesome steam bags made by Ziploc or Glad.) Toss shallots and asparagus is a little salt and pepper.
In a small bowl, beat eggs and then add milk. Sprinkle with salt and pepper, about 1/2 tsp each.
In a 9" pie pan that has been spritzed with cooking spray, toss together asparagus, ham, and shallots. Mix in cheese. Pour in egg/milk mixture and level out the top.
Bake for about 40 minutes or until set.
Serves 4.