As you know, I made a
sourdough starter
a couple of weeks ago. In efforts to keep it alive, I'm attempting to bake something with it each week. Ever since an unsuccessful pretzel last attempt last month where I essentially made pretzel-shaped bagels, I had been looking for a recipe without the boiling step. (
Disclaimer
: My goal is to make pretzels similar to Auntie Anne's which I usually order plain with a dipping sauce or sometimes with Parmesan cheese. Thus, I'm not necessarily aiming for traditional pretzels,).
This recipe from
King Arthur Flour
fits the bill fairly closely, at least in terms of texture. The sourdough flavor is quite noticeable (and yummy). Even though I started making them after 10 p.m. on Saturday night, which meant they weren't finished until nearly 1 a.m., both my husband and I had more than one.
The
King Arthur recipe
calls for non-diastic malt powder which is described as a secret bagel ingredient and aids a nice crust. I didn't have this ingredient so I brushed the pretzels with water before baking, just as I do for my sourdough loaves. While it did the trick, I am anxious to order some of this special malt powder to try it out.
Sourdough Pretzels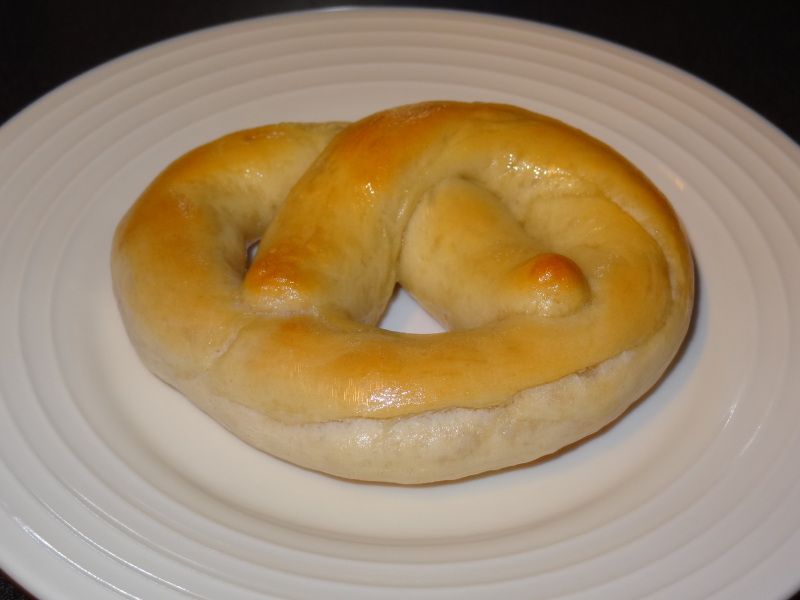 Dough
3/4 c warm water
1 c sourdough starter
3 c bread flour
1/4 c nonfat dry milk
1 Tbs sugar
1 Tbs vegetable oil
1 1/2 tsp salt
2 tsp yeast
Pre-Bake Topping
1 TBS non-diastic malt powder or sugar
2 TBS water
Post-Bake Topping
2 Tbs melted butter
pretzel salt
Add dough ingredients in order listed into your breadmaker. Set to "dough" cycle.
Divide dough into 12 pieces. Roll on a floured surface into 18" logs. Shape into pretzels.
Preheat oven to 350 degrees.
Brush with pre-bake topping. (I just used water).
Bake 25 to 30 minutes until golden brown.
Immediately brush with melted butter and sprinkle with pretzel salt, if desired
Makes a dozen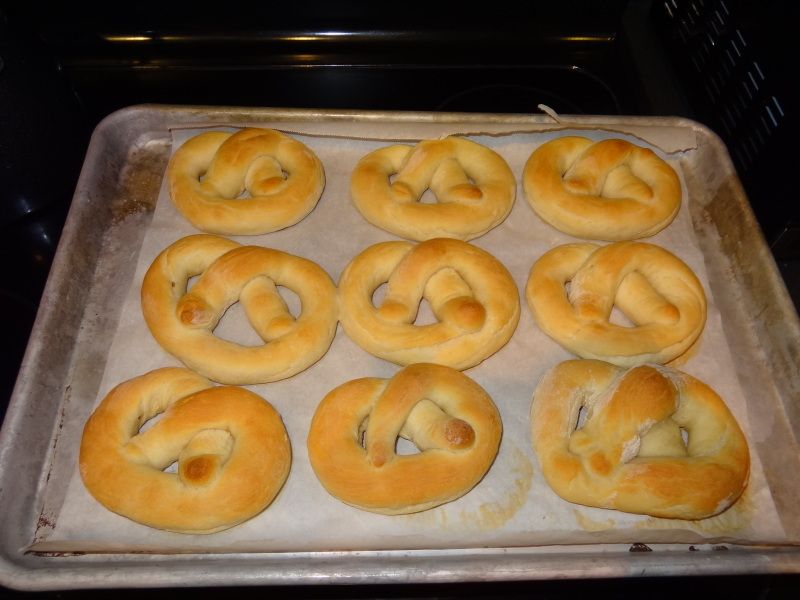 Fresh from the oven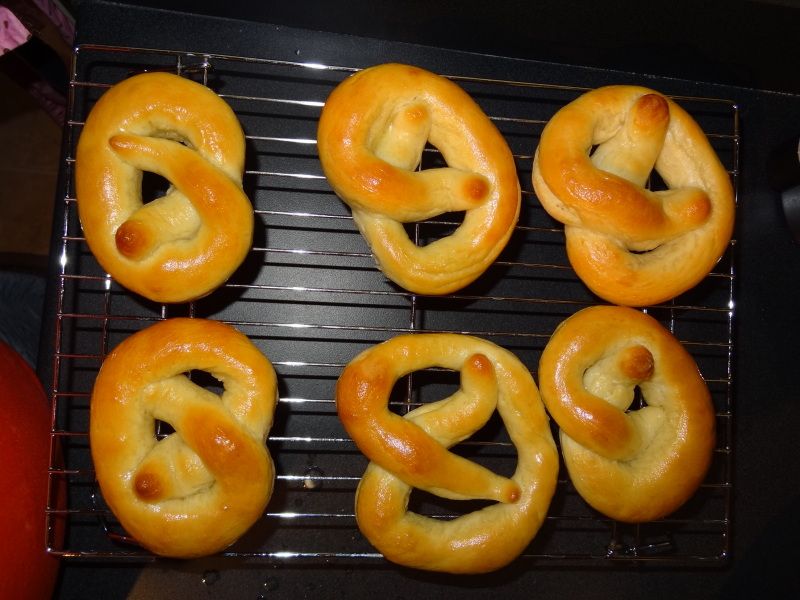 Brushed with melted butter