I love scones! Surprisingly, I only have two recipes for scones on my blog found
here
and
here
. The first recipe is my usual go-to recipe. However, after buying 3 lbs of strawberries for $5 a week or so ago, I was looking for new recipes to try. This one is from
Good Cheap Eats
. I made a few minor changes based on what I hand and came up with wonderful (and slightly lighter) results. To make my breakfast preparation quicker, I whisked together the dry ingredients before going to bed. Thus, this would be perfect for a make-ahead mix.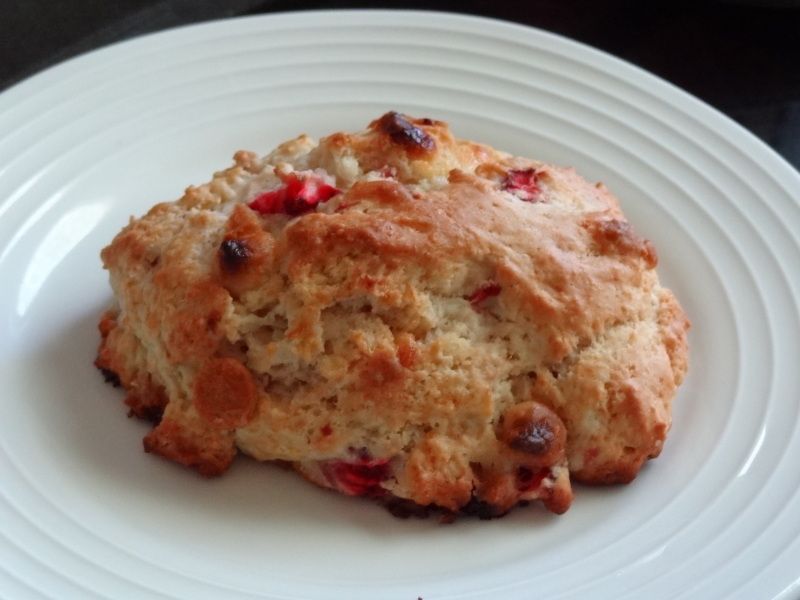 Strawberry and White Chocolate Scones
2 cups all purpose flour
1/3 c sugar
1 TBS baking powder
1/2 tsp salt
6 TBS butter, diced
1/2 c white chocolate chips
1/2 c diced strawberries
2/3 c whole milk (original recipe calls for heavy cream)
1 egg
Preheat oven to 400 degrees.
Whisk together flour sugar, baking powder, and sugar. Cut in butter using a pastry knife or in a food processor until mixture looks like coarse crumbs.
Separately whisk together milk and egg.
Add chips and strawberries. Stir in egg and milk mixture until well-combined. Try not to overmix.
Cut dough into 8 wedges or use an ice cream scoop.
Bake 18 - 20 minutes until golden brown and a tooth pick inserted in the middle comes out clean.
Makes 8 to 10