Though it seems that fall has finally arrived, I thought I'd share a dish we enjoyed in August--lamb lettuce wraps. Though I often enjoy lettuce wraps when dining out, especially for Thai food, I never think to make them at home.
This recipe
appeared in the August 2012 Cooking Light caught my eye, so I decided to try it. Other than omitting mint and using butter lettuce instead of Boston lettuce, I followed the recipe precisely. The result was very tasty, though I recommend that you accompany it with a hearty side dish or treat it as an appetizer when serving a meal. I paired it with toasted tortillas, but we were still a bit peckish later.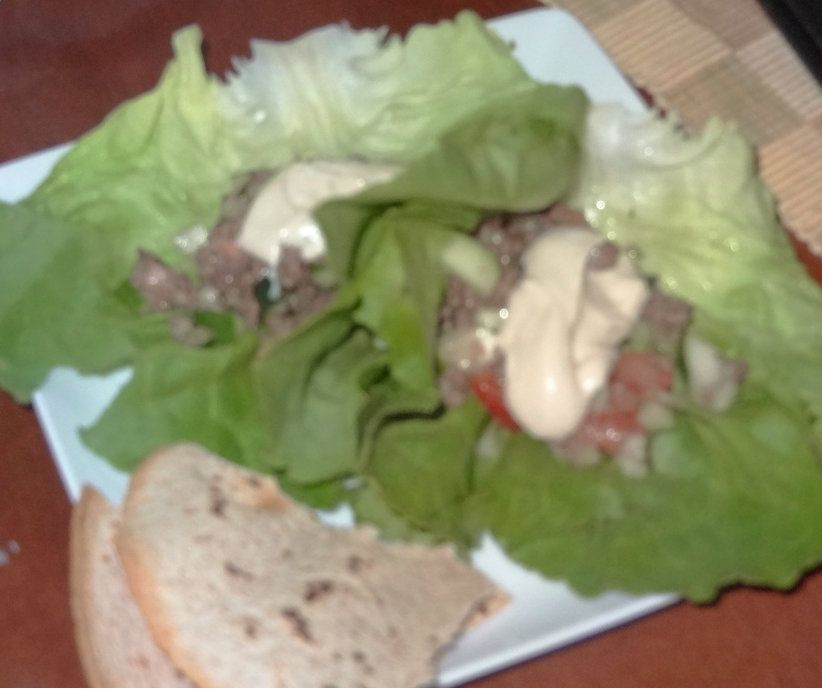 Apologies for the terrible pictures. I was too hungry to make sure they were actually in focus.
Ingredients
2 teaspoons canola oil
1 cup finely chopped onion
2 teaspoons minced fresh garlic
1 teaspoon ground cinnamon
3/4 teaspoon kosher salt
1/4 teaspoon freshly ground black pepper
6-8 ounces lean ground lamb
1/2 cup chopped fresh parsley
1/2 cup chopped tomato
1/2 cup chopped cucumber
1/4 cup plain fat-free Greek yogurt
1/4 cup hummus, red pepper recommended
8 lettuce leaves, Boston lettuce recommended
2 tablespoons torn mint leaves (I omitted)
1 tablespoon pine nuts, toasted
Directions
Heat a large skillet over high heat. Add oil to pan; swirl to coat. Add onion and next 5 ingredients (through lamb) to pan; sauté 5 minutes or until lamb is done.
Combine parsley, tomato, and cucumber in a medium bowl. Stir in lamb mixture.
Stir together yogurt and hummus in a small bowl.
Place about 1/4 cup lamb mixture in each lettuce leaf. Top each wrap with 1 tablespoon hummus mixture. Divide mint and pine nuts evenly among wraps.
4 servings, 2 wraps each