It's summer time and cherries are in season! No, we haven't been cherry-picking this year. Somehow berry picking in the summer turns out to be more difficult to schedule than apple picking in the fall. In June, the weekend we had planned to go turned out to the be the off weekend between strawberries and cherries. Since then the unbearable heat has made being outside for any length of time not ideal. Still, summer means fruit pies and I just so happened to have some frozen sweet cherries in the freezer.
A brief note on sweet cherries. Most pie recipes tend to call for sour cherries, but all I had were sweet. Fortunately, I stumbled upon this recipe for cherry pie filling from My Baking Addiction and these turned out great. A healthy dose of lemon juice provided some needed tartness. In general, I imagine you could just use less sugar in whatever pie filling recipe you use if it calls for sour cherries.
I also used a lighter crust than my usual pie crust with tasty results.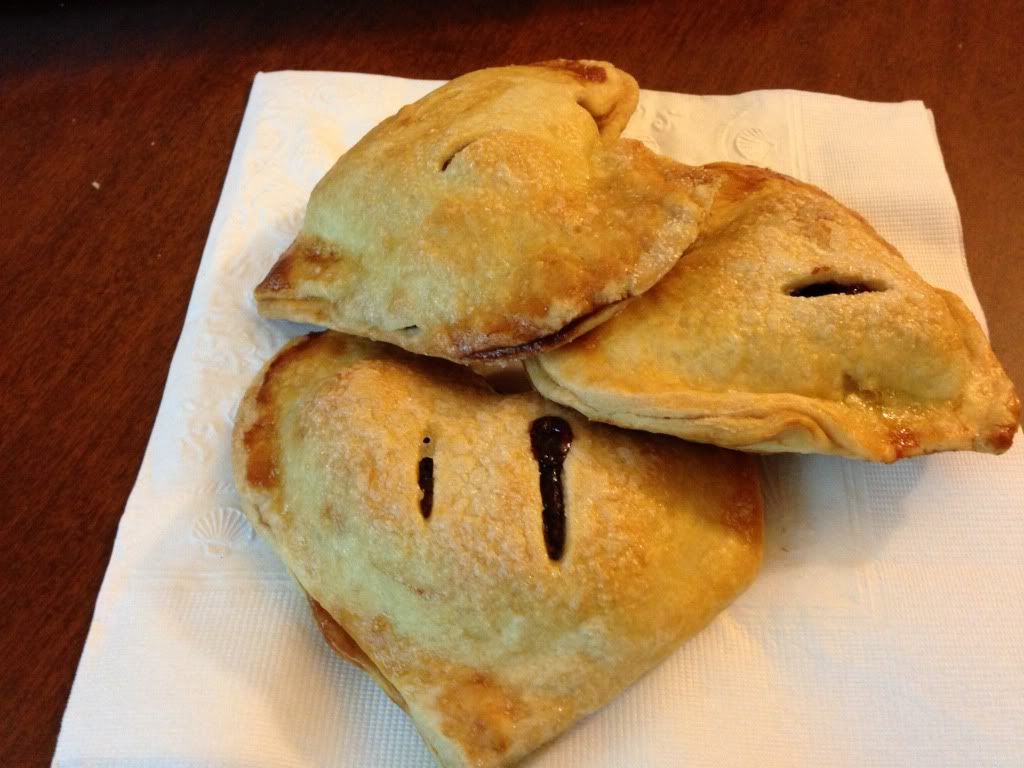 Cherry Mini Pies
Dough
1 1/2 cups all-purpose flour
1/2 teaspoon sugar
1/4 teaspoon kosher salt
1/2 cup butter, cut into 1/2-inch pieces
1/4 cup ice water
Filling
5 to 6 cups fresh pitted cherries, about 2 1/2 to 3 pounds (or 16 oz frozen)
1/2 cup water
2 tablespoons lemon juice
2/3 cup granulated sugar
4 tablespoons cornstarch
1/4 teaspoon almond extract

Also
1 large egg, whisked with 1 teaspoon water
1 tablespoon raw sugar
To make dough whisk together flour, salt, and sugar. Add butter and cut in with a pastry cutter until coarse crumbs form. Add in water gradually until dough comes together, adding more water if too dry. (Alternatively, you can do this in a food processor.) Make a flat disc, wrap in plastic and chill for at least 2 hours.
To make filling, in a saucepan over medium heat, combine cherries, water, lemon juice, sugar and cornstarch. Bring to a boil, then reduce heat to low and cook, stirring frequently, for about 10 minutes until thickened. Stir in extract. Cool.
Preheat oven to 375 degrees.
Roll dough to 1/8"-1/4" thickness. Cut or slice into pieces for 6-10 pies. (My pies were about 3 x 2" and I got 10). Spoon a tablespoon or so of filling into each pie, add top layer of dough, and crimp shut. Place on a baking sheet covered with parchment paper. Make a couple slits in each pie to allow steam to escape. Brush with egg wash and dust with sugar. Tip: Freeze pies for about 10 minutes before baking for flakier crusts.
Bake pies for 35 minutes until golden brown and filling is bubbly.
Makes 6-10 pies

Note: I didn't bake this many pies on one tray, only put them there for the photo. You should space your pies a couple inches apart as they may ooze filling during baking.