After nearly a week of regular blogging, I fear I will again take another hiatus. Hopefully not too long of one, but I make no promises.
We're moving again. This time from Northern Virginia to Columbia, Maryland. I think this is my fourth move in three years. I can't really blame military life as my move from Chicago to Hawaii in 2010 was a bit overdue. For those of you who don't know, my husband and I spent the first nearly four years of our marriage living hundreds to thousands of miles away from one another. I was working in Baltimore when he was stationed in North Carolina. Then I moved to Chicago and he was transferred to Hawaii where he frolicked on the beach when he wasn't deployed to Iraq, then Iraq again, and finally Afghanistan for 6-7 months at a time. Fortunately, my work in Chicago allowed me visit him roughly once every other month or so and I didn't go quite too nuts during these numerous deployments. Naturally, once we decided that enough was enough and I relocated to Hawaii, took the bar there, and found a great job, boom, he was transferred to Northern Virginia. To be fair, move number 3 wasn't the military's fault. Last spring we moved on our own to a larger apartment in preparation for the arrival of our son.
In truth, we're excited about this move. Our new home will be an actual house, but not too much house for our first non-apartment experience. There's no basement and the yard looks manageable (fingers crossed that I'm right on that), but we will be getting a living room, a family room, and a separate dining area. The trade-off is the loss of an open-concept design, a closed-off kitchen (but with windows!) and smaller bedrooms. Assuming I remember, I'll try to post pictures in the coming weeks.
Okay, that's enough rambling. Onto today's post. It's not really new as I made this recipe with chicken last year. However, I did take new pictures so it's worth a separate entry.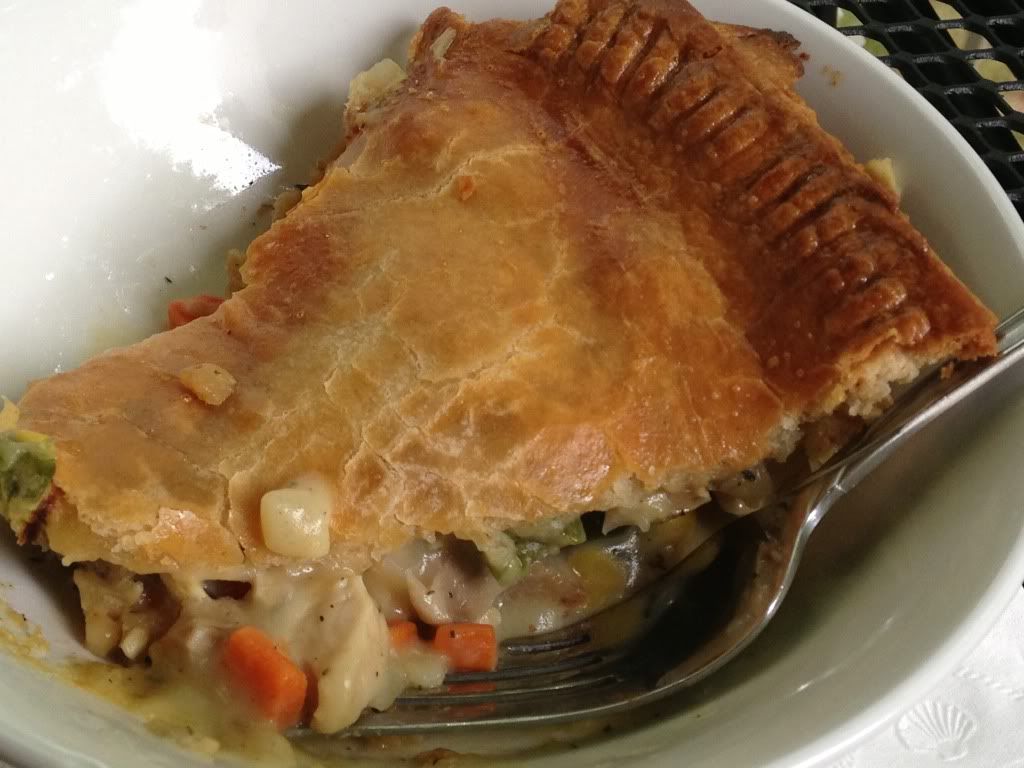 Turkey Pot Pie
Crust
2 1/2 cups all-purpose flour
1 teaspoon salt
1 cup butter, cold and cut into small pieces
1/4 cup ice water
Filling
2 cups cooked turkey
3-4 med carrots, diced
1 med onion, diced
1/2 c corn
1/2-1 c peas and or green beans, if desired
1/3 cup butter
1/3 cup all-purpose flour
1/2 teaspoon salt
1/4 teaspoon black pepper
1/2 teaspoon garlic powder
1/2 teaspoon dried thyme
1 3/4 cups of chicken broth
1 cup milk
1 egg, mixed with 1 tsp water
To Make Crust
Using a pastry cutter or in the bowl of a food processor, combine flour and salt.
Cut in or pulse butter until mixture resembles coarse crumbs. Add in ice water a tablespoon at a time until the dough holds together without being wet or sticky.
Turn out dough onto a floured work surface. Wrap in plastic, and refrigerate at least 1 hour or overnight.
To Make Filling
Preheat oven to 425 degrees F. Remove dough from fridge.
In a saucepan, melt butter and saute onions and carrots until onions are soft and translucent. Whisk in flour, salt, pepper, and spices and cook for a minute. Slowly stir in 1 3/4 cup chicken broth and milk. Simmer over medium-low heat until thickened. Gently stir in turkey, corn green beans, and peas. Cook for 2-3 minutes to bring everything to the same temperature.
Remove from heat and cool.
Assembly
Divide dough in half (if you haven't done so already) and roll into a large circle. Line the base of your pie pan. Roll the other half into a circle large enough to cover the pie. If possible, put both in the freezer for about 10 minutes. Spoon filling into pie. Cover with remaining dough and crimp edges with a fork (or fancy pie tool) to seal. Cut several slits to vent and brush with egg wash. Bake for about 30 minutes until golden brown.
Serves 4