Hmmm, I thought this was a spring/summer recipe but a quick search on Cooking Light informed me that this recipe was found in the December 2012 issue. I guess I'm more behind on my magazine pile than I thought. Oh well. I've now made
this recipe
twice and each time I pan-seared the steak but you could easily throw it on the grill. I loved that this recipe allows the meat to shine, but also has a nice pan sauce that adds a touch of sweetness. As for the Gorgonzola polenta [NOT PICTURED], it was definitely interesting, but I much prefer my regular version which uses Parmesan cheese instead. All in all, a tasty and quick meal.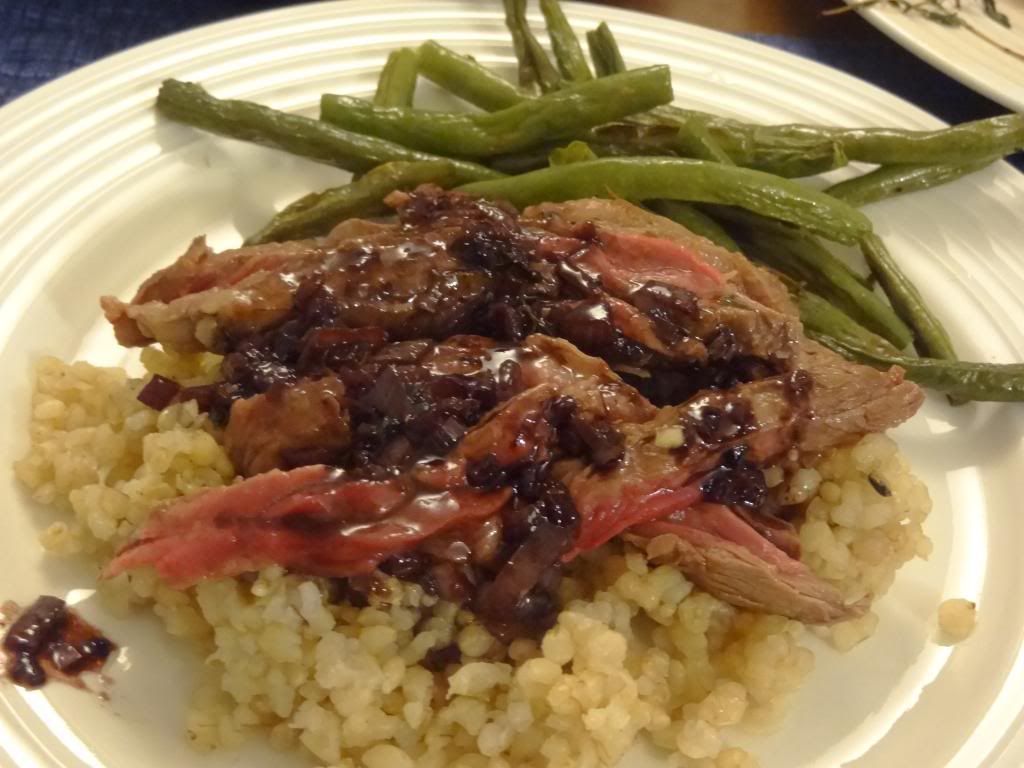 The gorgonzola polenta is obviously not pictured. I served it with the steak the first time I made the dish but didn't particularly care for it so we had it with brown rice the second time. However, since the two recipes are paired together by CL, I figured I'd share them both.
Skirt Steak with Red Wine/Thyme Sauce and Gorgonzola Polenta
2 cups plus 1 TBS chicken broth, divided
1 c milk (I used skim)
2/3 c quick-cooking polenta
1 oz Gorgonzola cheese, crumbled (about 1/4 cup)
1 lb skirt steak, trimmed and cut into 4 pieces
1 tsp butter
1 TBS finely chopped shallots
1/2 cup dry red wine
1 tsp chopped fresh thyme
1 1/2 tsp honey
1/4 tsp cornstarch (I increased this to at least 1/2 tsp, which is why the sauce pictured is so thick)
1. Combine 2 cups broth and milk in a medium saucepan over medium heat; bring to a boil. Gradually whisk polenta into broth mixture, stirring constantly. Reduce heat to medium-low; cook until most of the liquid is absorbed, stirring frequently, about 10-20 minutes. Remove from heat. Stir in cheese and sprinkle with salt and pepper. Cover; let stand 5 minutes.
2. Heat a large skillet over medium-high heat. Lightly oil pan or spritz with cooking spray. Sprinkle steak with salt and pepper. Add to hot pan and cook 3 minutes on each side or until desired degree of doneness. You could also grill it. Transfer to a cutting board and let rest.
3. Melt butter in skillet over medium-high heat. Add shallots; sauté 1 minute. Add wine, thyme, and honey; bring to a boil. Cook until reduced by half (about 2 minutes). Combine remaining 1 tablespoon broth and cornstarch in a small bowl, stirring with a whisk. Add cornstarch mixture to skillet; cook 1 minute or until sauce slightly thickens.
Serves 4