Another perk about the CSA I'm participating in is that in addition to the fruits and veggies, each week I get a dozen fresh eggs and bread item made with locally milled flours. When I signed up for the CSA, I was initially ho-hum about the bread item as I bake my own with my trusty
breadmaker
. Boy, was I wrong! The breads have been super--even the ordinary breads. The more interesting ones such as the
blueberry cornbread
I replicated last month have been outstanding! This month, I'm on the hunt for a chocolate raspberry bread that I picked up with my CSA share a couple of weeks ago. We gobbled it down in less than 2 days. This recipe from
Sally's Baking Addiction
comes close in that it's delicious and disappeared in no time flat, but it's definitely a banana bread variation and the original was not. In the future, I might try to adapt this recipe to remove the banana but I'll mostly likely just keep looking. In the meantime, enjoy!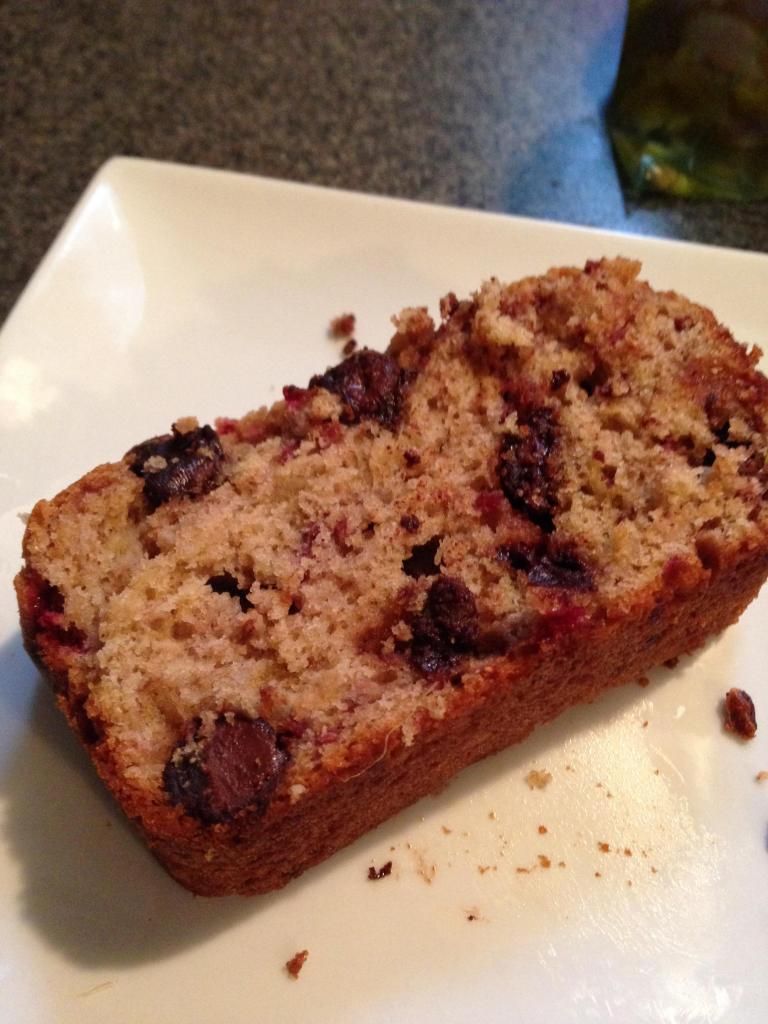 Chocolate Raspberry Banana Bread
2 cups white whole wheat flour
3/4 teaspoon baking soda
1/2 teaspoon salt
3/4 cup sugar
4 tablespoons butter, softened
2 large eggs
1.5 cups mashed ripe banana (about 3 bananas)
1/3 cup plain yogurt
1 teaspoon vanilla extract
3/4 cup dark chocolate chips
1 cup halved raspberries (fresh or frozen)
Preheat oven to 350 degrees. Prepare 1-2 loaf pans. (I used two. Original recipe calls for only one pan and a longer baking time.)
In a medium bowl, whisk together the flour, baking soda and salt. Set aside. In a separate large bowl, beat the sugar and butter until well blended. Add the eggs one at a time, beating well after each addition. Add the mashed banana, yogurt, and vanilla.
Slowly add dry ingredients until just combined. Gently fold in the chocolate chips and raspberries.
Pour into prepared pan(s). Bake 30-40 minutes if using two pans, 50 to 60 minutes if using one or until a toothpick inserted in center comes out clean. Cool 15 minutes in the pan on a wire rack, then remove from pan to the wire rack and cool completely.