I've been looking for a dark chocolate cookie for some time now and these are pretty darn great. This recipe comes from
Dessert Now, Dinner Later
and is actually styled "Dark Chocolate Cookies and Cream Cookies" but since I was mainly looking for a dark chocolate base, I decided to omit the chocolate chips and candy bar pieces and tossed in some peanut butter chips. Mid-toss of the peanut butter chips, I wondered how just a plain chocolate dough cookie would taste. Thus, I halved the amount of chips and did a less than thorough job stirring so some cookies have lots of chips and others had practically none. The results were lovely even the bites with no chips at all. In the future, I intend to try this recipe with other flavors of chips (e.g. dark chocolate or coffee) and maybe some walnuts. Don't worry, the amount of chips listed below is double what I used and should be adequate to have multiple chips per cookie. If you're a fan of chewy cookies, these are for you. Though they rose fairly high, due to a good amount of butter, they collapse into near-flat cookies after cooking. Though purists and the original recipe recommend using unsalted butter, I very much enjoyed the taste of the extra salt in contrast to the sweet cookie.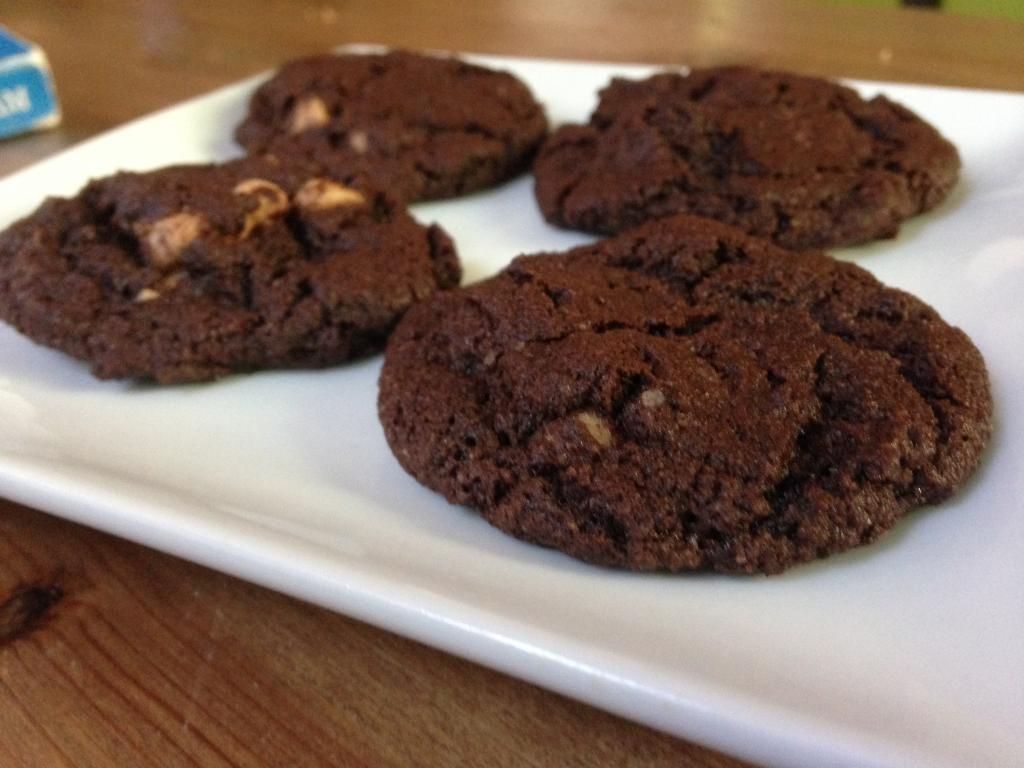 Dark Chocolate Cookies
1/2 cup butter, room temperature
1/2 cup sugar
1/2 cup brown sugar
1 egg
1 tsp vanilla
1 cup white whole wheat flour (or all purpose)
1/2 cup cocoa powder (I used King Arthur's double chocolate cocoa powder)
1 tsp baking soda
1/2 tsp salt
1 cup any flavor chips and/or nuts (e.g. peanut butter, dark chocolate, cappuccino, walnuts,etc)
Preheat oven to 350 degrees. Spray and flour cookie sheets or cover with parchment paper.
With mixer or hand beater cream together butter and sugars. Add in egg and vanilla.
In a separate bowl, whisk together flour, cocoa powder, baking soda, and salt.
With the mixer on low, gradually add dry mixture to wet and beat until well-combined.
Gently stir in chips, nuts, etc.
Drop rounded balls of dough with 1" scoop onto prepared pan, leaving at least two inches space in between.
Bake 10 minutes. Allow cookies to rest on sheet for 3 to 5 minutes before transferring onto wire rack to cool completely. (Note: cookies will be poufy when they are removed from the oven but will quickly fall. This is normal and does not affect the tenderness of the cookie.)
Makes about 3 dozen 2" cookies.