As I mentioned last month, this summer I'm participating in a CSA and get a weekly produce selection. What I'm loving about it is eating what's in season and locally grown. If I'm left to my own devices, veggie-wise we'd pretty much eat the same things year-round: zucchini, broccoli, spinach, lettuces, sweet potatoes, peppers, mushrooms, carrots, and potatoes. Not a whole lot variation would happen unless I wanted to make a particular recipe or had a random craving. To some that may be a pretty broad selection, but trust me it gets pretty boring if you're eating your 2-3 veggies per day as we try to do. It's also can be quite expensive to eat produce that's not in season, especially if you're also trying to eat organic. To make a long story short, I love that each week's selection is different (yes, there's some overlap, but it's never the same week to week). It forces me to try new combinations and sometimes eat a lot of things I wouldn't normally purchase in efforts to use all the produce before it spoils or the next week rolls around.
This recipe came from an abundance of tomatoes and eggplant. Ironically, the recipe uses cherry tomatoes which I purchased at Trader Joe's, but I likely had tomatoes on the brain since I've been overwhelmed with an abundance of regular tomatoes in my weekly selection. You could no doubt use regular tomatoes in this recipe, though cherry tomatoes hold their shape well during the cooking process. Inspired by this recipe at Real Simple I had intended to serve it over pasta. Then I started nibbling from the pan and before I knew it, I'd eaten the entire dish sans pasta! Granted, I used a smallish eggplant, but together with the tomatoes and spinach it filled a nine inch sauce pan! I had no idea browning the eggplant in a saucepan would produce a buttery flavor that I just could not get enough of! I meant to add the mozzarella, but forgot and didn't miss it as this dish is too tasty on its own. I recommend serving this with a nice hunk of crusty bread or over pasta (so as stretch it to feed more than a single person :). Without further ago, here's the recipe: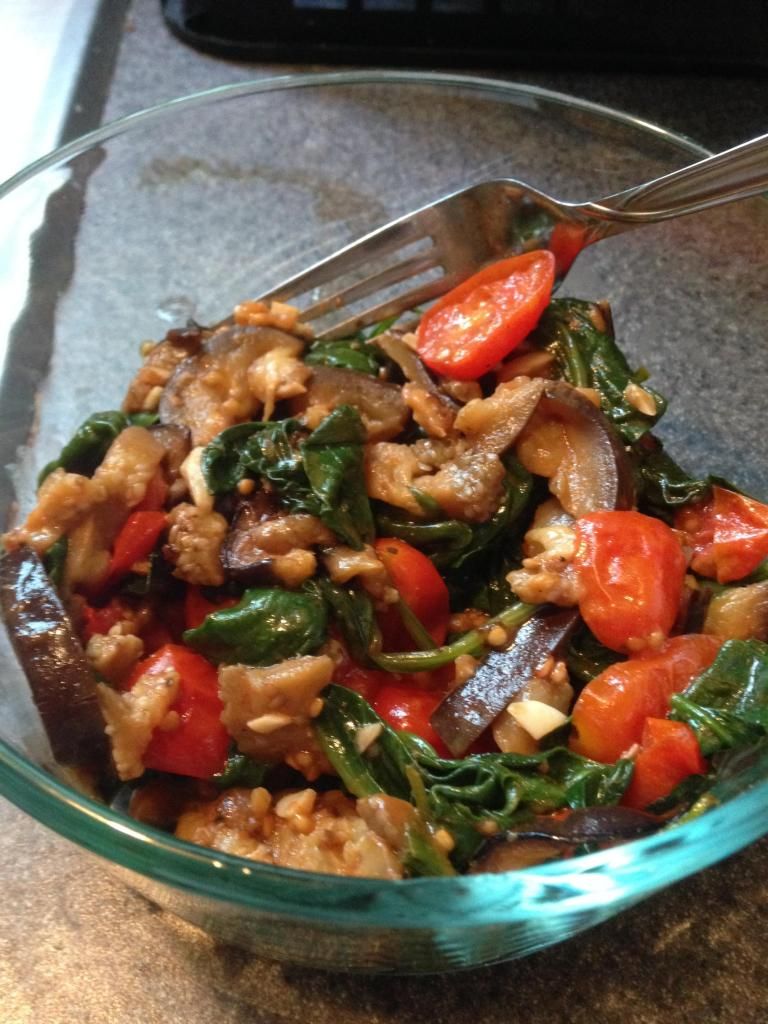 Eggplant, Tomato, Garlic, Spinach Saute
1 medium eggplant, sliced into 1 x 1/2" pieces
2 garlic cloves, minced
1/2 lb cherry tomatoes, halved
2 c baby spinach
1/4 tsp crushed red pepper, if desired
salt and pepper
olive oil
Saute the eggplant in olive oil until golden brown, 8-10 minutes. Add tomatoes, garlic, crushed red pepper (if using, I omitted) and season with salt and pepper. Cook until the tomatoes are tender, 2-3 minutes. Stir in spinach and cook until wilted. Adjust seasonings.
I enjoyed this both piping hot and at room temperature.