This recipe has been adapted from one found in December 2009's Cooking Light. I used a Belgian beef called Mathilda from the Goose Island Brewery. Yum! The recipe called for cooking on the stovetop 2 hrs+. I threw it in the slowcooker and it turned out perfectly.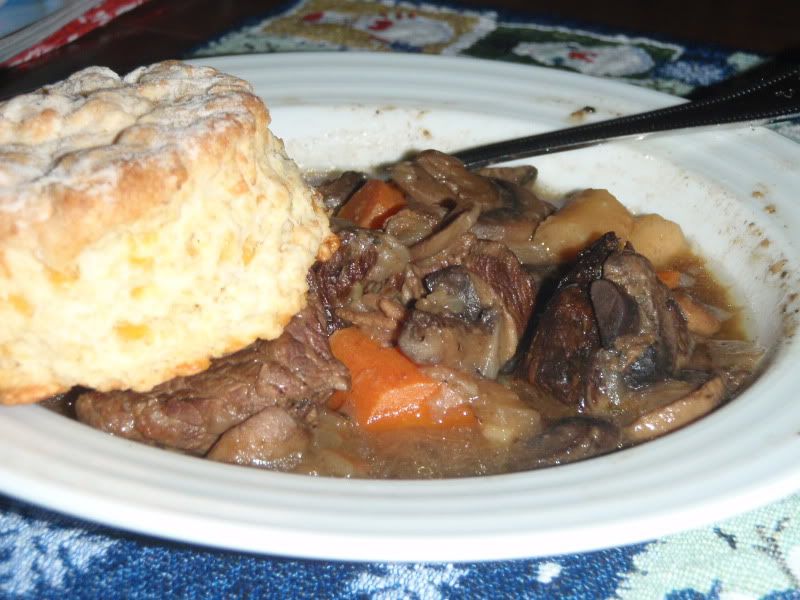 3 bacon slices, cut into 1/2 inch pieces
2.5 lbs boneless chuck roast, cut into 1.5 inch cubes
2 c onion, chopped
12-16 oz mushrooms, sliced
4 cloves garlic, minced
3 Tbs all purpose flour
2 c carrots, sliced 1 inch thick
1.75 c parsnips, sliced 1 inch thick
1 c beef broth
8 oz Belgian beer (up
2 Tbs dijon mustard
1 tsp salt
1 tsp dried thyme
1/2 tsp pepper
1 bay leaf
Cook bacon in a large pot over medium high heat until crisp. Remove bacon from pan, reserving drippings. In the bacon fat, brown beef on all sides (do this in two batches as not to cool the pan). Remove beef from pan and place in slow cooker.
The next set of directions apply to the stove top version. I did them, but you probably don't have to if you're cooking in the slow cooker.
Saute onions in bacon grease over medium high heat until they begin to soften. Add mushrooms and cook until browned and liquid is mostly evaporated. Add salt, pepper, garlic and cook for one minute. If cooking in slow cooker, place meat (bacon too) and veggies in the slow cooker.
[If cooking on the stovetop, add flour, cook for one minute. Then stir in beer, scraping up brown bits.]
Mix the flour, mustard, thyme, broth, and beer. Pour into slow cooker and mix well. Add bay leaf. Cook on low for 4-6 hours until meat and veggies are tender.
[On the stovetop, add bacon, beef, carrot, and remaining ingredients to pot. Bring to a boil. Cover and reduce heat to low. Simmer for 2 hours or until tender.]
Discard bay leaf before serving.
Serves 6.