This recipe appears in this month's Cooking Light. My auntie prepared this while I was at work and it turned out beautifully.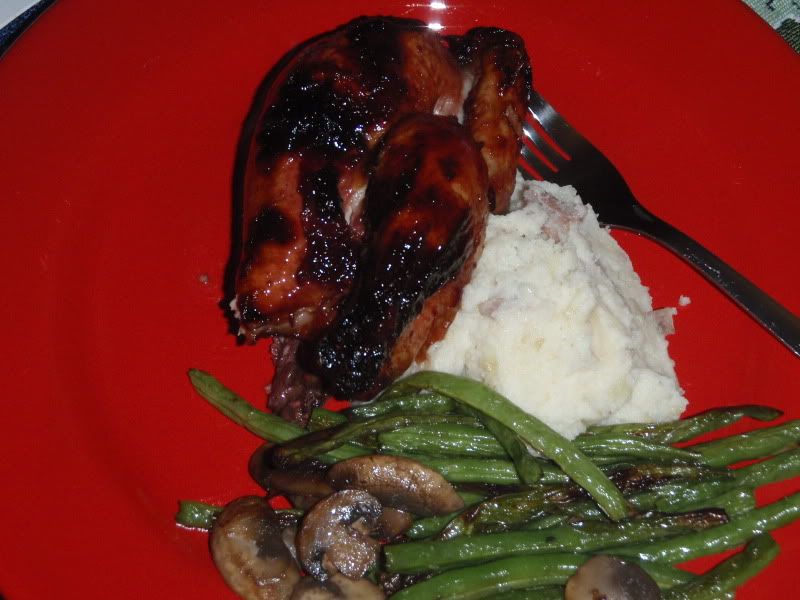 1/2 cup cherry preserves
1/2 cup port
1 tablespoon grated ginger
1 tablespoon balsamic vinegar
2 (1 1/2-pound) Cornish hens
Preheat oven to 400°.
Place a wire rack on a baking sheet; coat rack with cooking spray.
Combine preserves, port, ginger, vinegar, and 1/4 teaspoon salt in a small saucepan. Bring to a boil; cook 9 minutes or until slightly thickened, stirring occasionally. Remove and discard giblets and necks from hens.
Rinse hens and pat dry. Tie ends of legs together with twine. Lift wing tips up and over back; tuck under hen. Sprinkle evenly with 1/4 teaspoon salt and 1/4 teaspoon freshly ground black pepper.
Set on wire rack on baking sheet. Bake at 400° for 15 minutes.
Brush hens with cherry mixture; bake 40 minutes or until a thermometer inserted in the meaty part of thigh registers 165°, brushing with cherry mixture every 10 minutes.
Remove from oven. Let stand 5 minutes.