This recipe came off the back of a package of Hershey's Classic Chocolate Chips. I just added the pecans and substituted egg whites for one of the eggs
.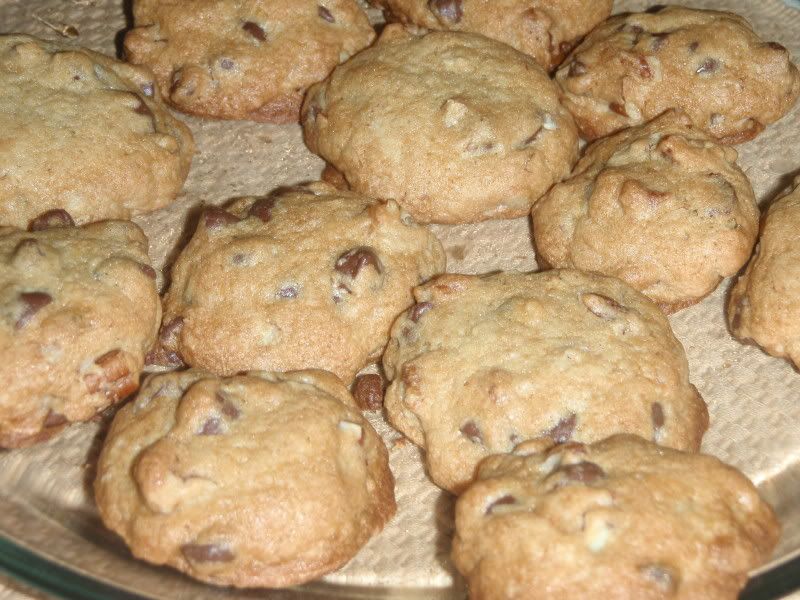 2 1/4 c all purpose flour
1 tsp baking soda
3/4 tsp salt
3/4 c granulated sugar
3/4 c brown sugar
1 c (2 sticks) butter
1 tsp vanilla
1 egg and 2 egg whites
12 oz semisweet chocolate chips
1 c pecans, chopped
Preheat oven to 375.
Cream butter and sugars together. Add eggs and vanilla, beating well.
Separately, whisk or sift together flour, baking soda, and salt. Add to wet mix and combine thoroughly with a whisk or mixer.
Stir in pecans and chips. Put dough in freezer or fridge for a few minutes while you grease a couple cookie sheets or cover them with parchment paper. I recommend keeping any dough in the fridge in between batches. This helps the cookies stand up a bit better.
Drop tablespoons of dough, spaced at least 1-2 inches apart. Bake about 10 minutes per batch, until golden brown. Allow to rest for a minute on the cookie sheets before removing to cooling racks.
Makes 5 dozen