I made these Tuesday morning, but somehow haven't gotten around to posting them today. I scribbled the recipe down from somewhere on the internet, but forgot to write the source. I'll hunt about and try to update it. This is an extremely healthy muffin as there is absolutely no oil or butter. Muffins need fat. Let me repeat, muffins need fat. These were not bad, but definitely a tad dry. Also, while it sounded interesting to use dried apples, I would recommend fresh for extra moisture.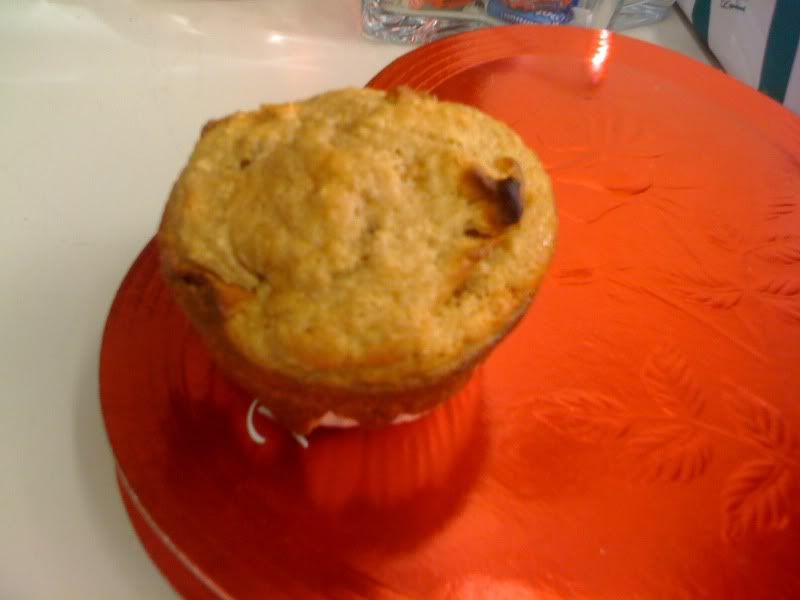 1/2 c whole wheat flour
1/2 c all purpose flour
3.5 tsp baking powder (yes, that much)
1/4 tsp salt
1/2 tsp cinnamon
pinch of Cake Mix (that's a flavor from the Spice House which has anise, nutmeg, cloves, cinnamon, and more), or nutmeg
3/4 c oatmeal (quick oats)
1/2 c brown sugar
3/4 c dried apples, chopped
1 egg
1 c skim milk
1/4 c apple sauce
Mix dry ingredients, except oatmeal, together whisk. Make a well in the center and incorporate wet. Stir in apples and oatmeal until thoroughly moistened. (At first I thought the mixture was far too wet, but then realized that the oats and apples would soak up excess liquid, which they did.)
Pour into prepared muffin tins. I used my NEW big muffin tin and got exactly six muffins. Thus, I assume 12 would be the norm.
Bake at 400 degrees for 20 minutes until a tester comes out clean.