This recipe was modified from Martha's recipe available here. Her recipe called for lemon zest and less flour and sage. I love sage, so used about double. I consulted this one, which gave me the idea of additional flour and freezing the leftovers. From the latter recipe, there is also a link gives closeup shots of shaping which might have been useful to check out before I began. Nonetheless, my result was most tasty. Please note that the sauce recipe only made enough for the half batch I didn't freeze. If you are using the whole recipe, double the sauce or better yet, serve with multiple sauce options.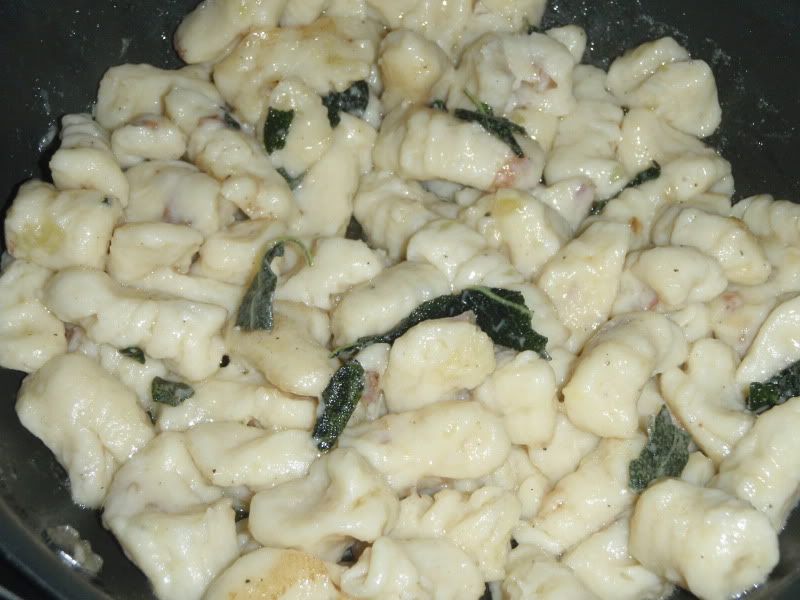 Gnocchi
2 - 3 cups cold mashed potatoes (Mine were garlic mashed)
1 large egg
3 Tbs olive oil
2 c flour
Sage and Brown Butter Sauce
1/4 c fresh sage leaves, torn into bite-sized pieces
3 Tbs butter
1/2 tsp fresh ground pepper
1/4 c shredded parmesan
Directions
1. Bring a large pot of salted water to a boil. Cover a cookie sheet or other large flat surface with parchment paper to set the gnocchi on while you're waiting for the water.
2. Combine mashed potatoes, egg, olive, oil and 1 c flour. If your mashed potatoes are chunky like mine, you may wish to put them through a ricer first. Continue adding flour until the dough is dough-like and not too sticky.
3. Turn dough onto a floured work surface. Divide into 4 portions. Roll each quarter into a long rope about 3/4 inch thick. (My work surface was small, so I actually did 1/8 of the dough at a time). Cut into 3/4 inch pieces.
4. Press each piece with the back of a fork. Then turn the edges together making a crease in the the back. Most recipes call for bending each piece that has been pressed into a C shape, but I had difficulty with that. The bottom line is that you want a shape that is pleasing to look at while you eat.
5. Drop into boiling salted water. Cook for about 2 minutes or until the gnocchi float to the top. Remove with a slotted spoon. (My pot of water fit about 1/8th of a batch at a time. Remove with a slotted spoon. I periodically added more salt to the water, but that may not be necessary.)
6. Drain in a colander with cold water.
7. Melt butter in a large skillet over medium-high heat until it begins to brown.
8. Add sage leaves and pepper. Cook until sage is wilted.
9. Add gnocchi to pan and continue cooking until sage is crisp and gnocchi is heated through. The gnocchi may begin to brown, which is okay.
10. Serve with parmesan cheese.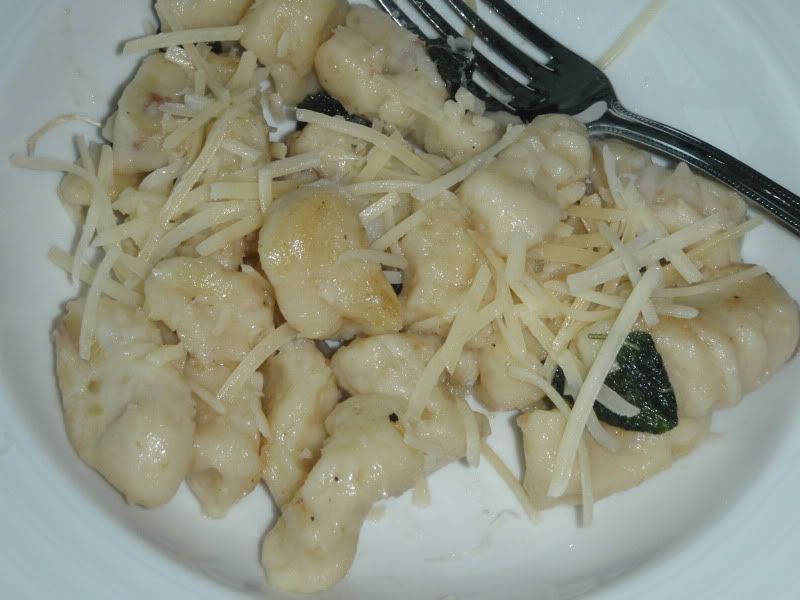 Makes 6 to 8 servings. Alternative sauce choices include a tomato sauce, bolognese, or any other pasta sauce.