Back when hard drive space did not seem so limitless, before my enormous binder/page protector collection, and before this blog, I used to paste recipes I found into a composition book. This recipe is adapted from one entitled "Double Chocolate Chip Cookies presented by Huber's Ferry Bed and Breakfast." I have no idea where Huber's Ferry B&B is or where I came across this recipe, but the result (with a few modifications, of course) sure is yummy. Having bought peanut butter chips for a song, I was looking for a recipe that used cocoa powder and this one fit the bill. I made half of the batch using milk chocolate chips and half using the peanut butter chips. Initially, the peanut butter were my favorite, but about a half dozen cookies later, it's a tasty draw. I baked these on Saturday to mail to my husband and take to friends I was visiting, but it was very hard to say goodbye to them.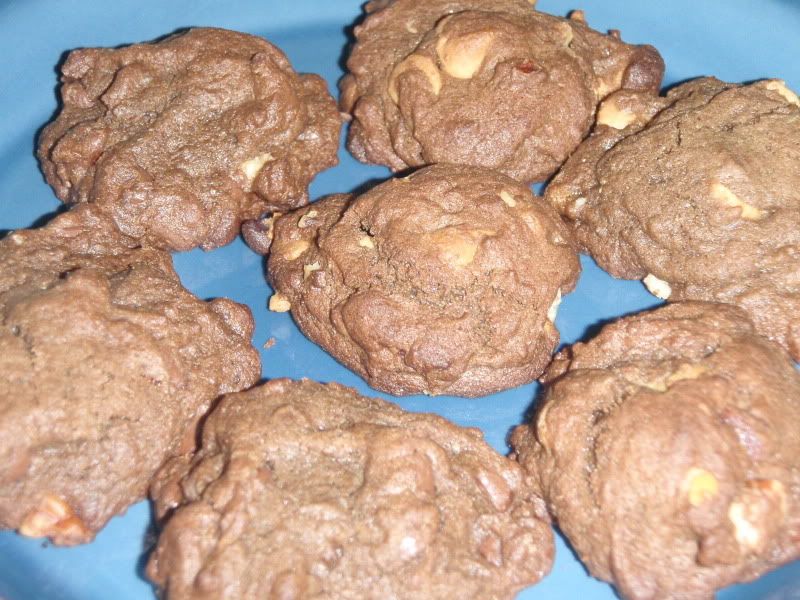 2.25 c all purpose flour
1/3 c cocoa powder
1 tsp salt
1 tsp baking soda
3/4 c brown sugar, firmly packed (I used 1/2 c light brown and 1/4 c dark)
3/4 c granulated sugar
1 c butter, softened
1 tsp vanilla
1 egg + 2 egg whites
2 c chips (milk, semisweet, peanut butter)
1 c pecans, roughly chopped and toasted
Mix flour, cocoa powder, salt, and baking soda in a large bowl and set aside.
Cream sugars and butter together. Add eggs and vanilla; mix well.
Combine wet into dry ingredients. Stir in chips and toasted nuts gently.
Cover and chill dough for 45 minutes to an hour.
In a 375 degree oven, on a cookie sheet covered with parchment paper or a silicon mat bake 10-12 minutes until edges are firm.
Cool for a minute on cookie sheet, then move to rack.
Makes 3-4 dozen 2" cookies.