I'm cheating by reposting an old recipe with a picture. This recipe is a simple but yummy way to jazz up baked chicken. To the original recipe, available here, I added a red onion and a hint of crushed red pepper. I also omitted the orange peel. The pan drippings are tasty, so I recommend serving with a grain that will soak up the sauce such as rice or pasta.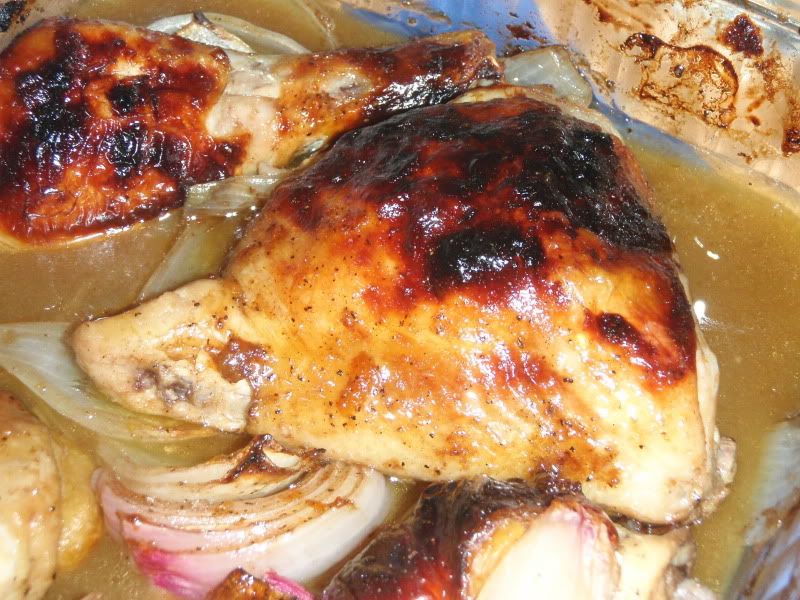 2/3 cup apricot preserves
2 tablespoons balsamic vinegar
1 teaspoon salt
¾ teaspoon black pepper
1/4 tsp crushed red pepper
1 red onion, 1 yellow onion, cut into wedges
2-3 lbs chicken pieces (I used three leg/thigh pieces)
1.Preheat oven to 400 degrees.
2. Whisk together, apricot preserves, vinegar, salt, pepper, crushed red pepper.
3. Lay chicken in a single layer in a 9 x 13" baking pan. Place onion quarters between and around the chicken. Brush about half of the sauce over chicken.
4. Bake, uncovered, for 30 minutes.
5. Turn chicken and baste with remaining sauce.
6. Continue cooking another 20 minutes or until chicken is cooked through.
Serves 4.