This fantastic dish was almost entirely unplanned. I had a fancier breaded version with honey mustard and sage in mind when I bought the chops, but somehow failed to get bread crumbs. I'm not sure if the pork chops (from Trader Joe's) were extra juicy as well or it was the recipe alone, but again may I say it was delicious. I neglected to take pictures, but my auntie was kind enough to make the dish for lunch and take a picture. I'm happy she liked it too.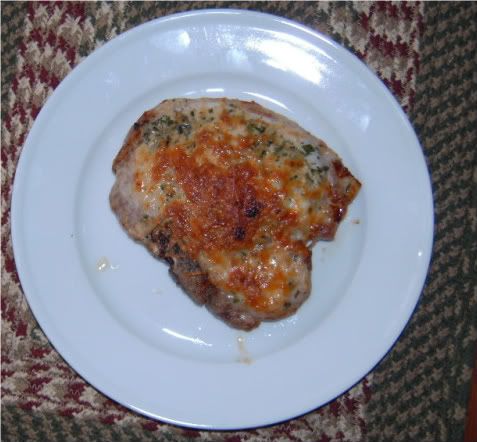 Two 1" pork chops, bone-in
1 tbs fresh sage, chopped finely
1/4 c Parmesan cheese, shredded
salt, pepper, olive oil
Rub pork on both sides with sage, sprinkle of salt and pepper. Drizzle with olive oil.
Broil about 5 min, until browning begins to occur. Flip and cover with shredded cheese. 
Continue broiling until desired degree of doneness is achieved. (As many of you have noticed from your finer restaurants, pork may now be safely served "medium" with a touch of pink. I'm assuming that's to 165 degrees, but am not sure.)
Serves two.