It's Superbowl Sunday! Go Steelers!
Sorry for the lateness of my Sunday Supper Series post. Although I had it scheduled to post at 5am, I had neglected to hit "post" so it was still in "draft" status. When I realized what had happened, I decided to swap the post I had scheduled for this one on account of the Superbowl. This is actually my first beef chili recipe since I almost always make turkey or chicken chili using
this recipe
. Anyway, I started out pretty similarly, to my usual recipe but then decided that the beef needed a little more flavor and started experimenting as you will see. Enjoy!
Printable Version

Ingredients
1.25 ground beef (I used 93% lean)
1 onion, diced (about 1 cup)
3 garlic cloves, minced
14 oz fire-roasted tomatoes
28 oz diced tomatoes
8 oz tomato sauce
14 oz or about 1.5 c red beans
1/4 c ketchup
1 tbs Worcestershire sauce
2 heaping tbs chili powder
1 heaping tbs cumin
1 c corn
1 green bell pepper, diced (about 1 cup)
2 tsp sugar, depending on the sweetness of your tomatoes and ketchup
Salt, pepper, olive oil
Directions
1. Sprinkle ground beef with salt and pepper and brown in a little olive oil. Drain and set aside.
2. Saute onions until tender. Add garlic and cook for one minute.
3. Add beef to the onions and stir in chili powder and cumin. Cook for another minute.
4. Add tomatoes, tomato sauce, beans, ketchup, worcestershire sauce and bring to a near boil. Reduce heat and simmer for 20 minutes.
5. Increase heat to medium high and stir in green pepper and corn. Cook for another 7-10 minutes until heated through. Adjust seasoning as desired by adding salt, pepper, and sugar.
Serves 6 - 8 depending upon whether it's a side dish or entree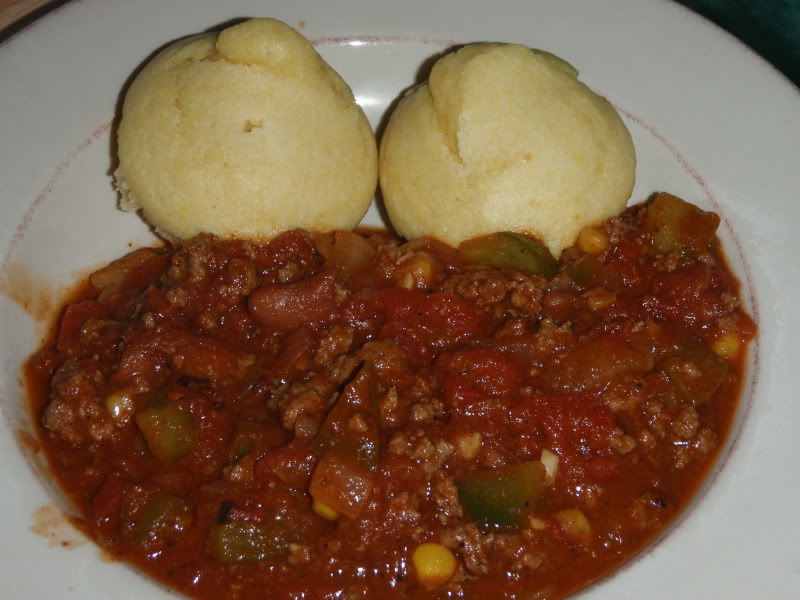 Printable Version