Happy Sunday everyone. If you're in the U.S., there's a good chance that you have a three-day weekend for President's Day. I have half the week "off", but am unfortunately taking the Hawaii bar exam on Tuesday and Wednesday, so those days will not be fun.
For this week's recipe, while at the market Saturday afternoon I saw some gorgeous short ribs and decided that was what I wanted to make for dinner. However, all of my short ribs recipes are for the slow cooker. What to do with only a few hours before dinner? Convert a slow cooker recipe for the oven, of course. I used
this recipe
from last year and in a little over 2 hours, we had yummy, tender short-ribs.
On a whim, having seen this trick on a number of blogs, I decided to do a little something different with my mashed potatoes...add a little cream cheese instead of milk. My husband loved the results! That recipe appears below the ribs.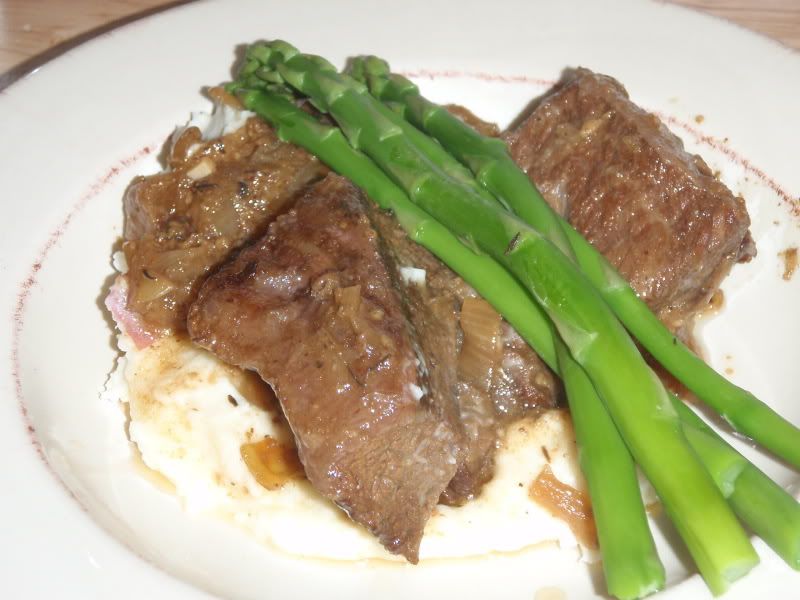 2 lb short ribs
1/4 c Dijon mustard
2 Tbs beef broth
2 Tbs soy sauce
2 Tbs Worcestershire sauce
1 Tbs cider vinegar
3 Tbs brown sugar
1 tsp dried thyme
1/4 tsp (or less) cayenne pepper
2 medium onions, chopped
2 cloves garlic, minced
salt and pepper
olive oil
Preheat oven to 350 degrees.
Salt and pepper ribs and brown them in olive oil.
In the bottom of a dutch oven or large pot, scatter chopped onions and garlic. Place ribs on top. In a small bowl, whisk together mustard, beef broth, soy sauce, worcestershire sauce, cider vinegar, brown sugar, thyme, and cayenne pepper. Pour over ribs and give everything a good stir.
Cook, covered, at 350 degrees for 45 minutes, than reduce heat to 325 degrees. Continue cooking for another hour or two until ribs are fork-tender, checking after the first hour and then every 20-30 minutes.. So long as the heat is low, you're not likely to burn this dish. If you're nervous, turn heat all the way down till 300 degrees, but obviously it will take longer.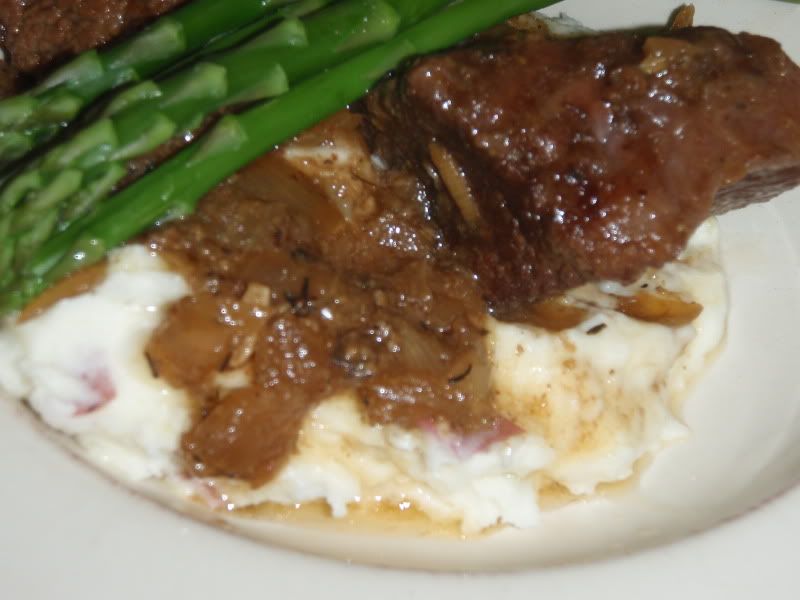 Creamy Mashed Potatoes
2 lbs potatoes (I used a mix of red and Idaho)
1 tsp kosher salt
4 oz cream cheese
2-3 tbs butter
salt and pepper to taste
Peel and cut the potatoes into cubes, as desired. Bring to a boil in salted water and cook on low until tender, about 20 minutes.
Drain potatoes. Melt butter in hot pan and add potatoes. Toss in creamed cheese (softened) and a sprinkle of salt and pepper. Smash everything together and adjust seasoning to taste.
Serves 2-4