Yesterday morning I was in the mood for a chocolate pastry. However, making homemade pain au chocolat (chocolate-filled croissants) seemed like a whole lot of work, even with my bread maker--not to mention a whole lot of butter. So, I started browsing the internet, especially Pinterest, for ideas. After a lot of puff pastry recipes, I finally stumbled upon
this recipe
posted on Blog Critics - Tastes. I used the dough from the
chocolate cinnamon rolls
I made a couple of months ago and added a handful of nuts. Yum! The banana taste is not very noticeable, but I did not use super ripe bananas. If you do, the flavor will be more formidable. What the bananas did do was to allow me to use a mere 4 tbs of butter, much less than many traditional cinnamon roll recipes, but not lose that gooey sensation. I also omitted the frosting, but if you're interested, check out
this recipe
for inspiration.
I'm fickle, so although the chocolate taste was yummy, I wish I'd made half with raisins or other dried fruit instead. Next time!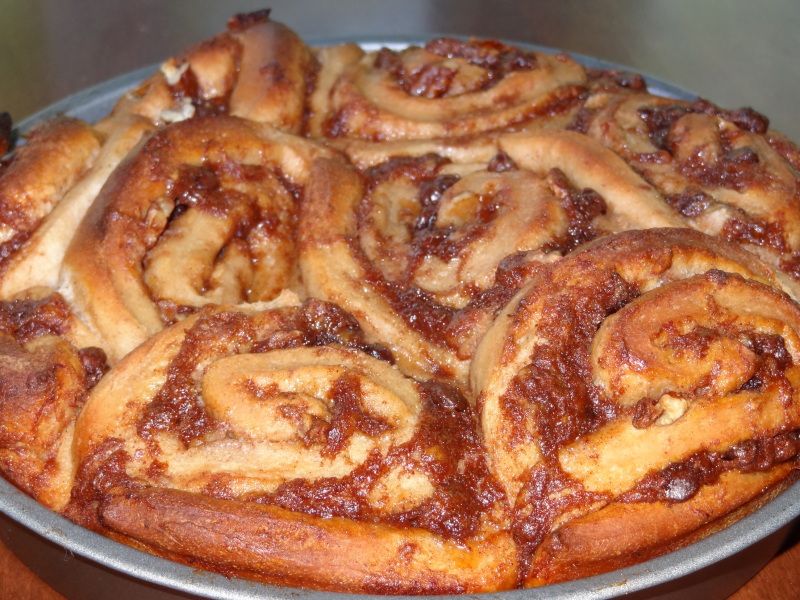 Chocolate Banana Pecan Cinnamon Buns
Dough
1 cup milk
1 large egg, slightly beaten
1 1/4 c white whole wheat flour
2 1/2 all-purpose flour
3 TBS butter, diced
1/2 cup sugar
2 tsp ground cinnamon
1 tsp kosher salt
2 1/4 tsp rapid-rise yeast
Filling
2 ripe bananas, mashed
4 TBS butter, softened
1/2 c brown sugar
1.5 TBS cinnamon
1/2 c pecans (or nut of choice)
1/4 c mini chocolate chips (or handful of chopped dried fruit)
1. In the pan of your bread maker, layer ingredients in order listed (or according to directions on your machine). I put everything after the flour in separate corners to the extent possible, then made a hole in the middle for the yeast. Set to "dough" cycle.
2. In a small bowl, mix bananas, butter, sugar, and cinnamon.
3. Roll dough into 14×12" rectangle. Brush with banana mixture, leaving at least a 1/2" seam along all sides. Sprinkle with nuts and chocolate or fruit. Roll.
4. Cut into even pieces about 1/2" - 3/4". Cover and let rise for an hour.
5. Preheat oven to 375 degrees.
6. Bake for 20 minutes until golden brown. Serve warm.
Makes 16-18 rolls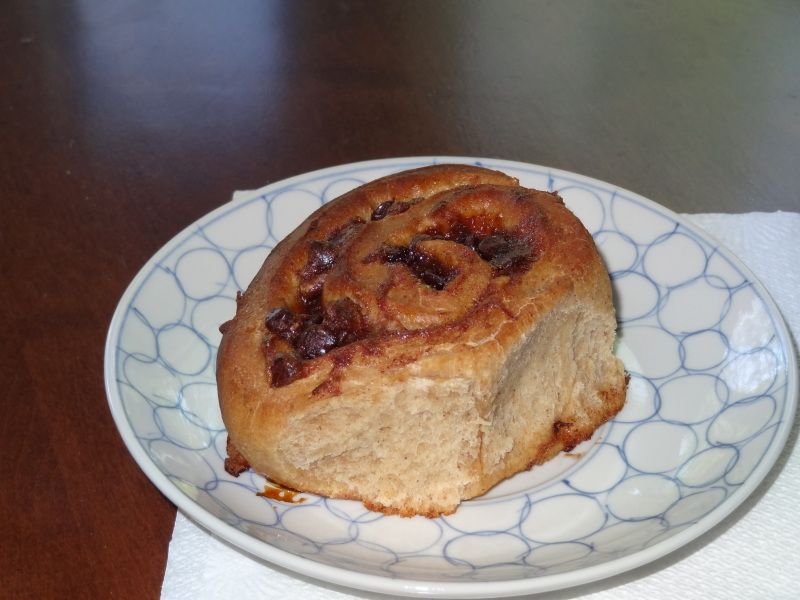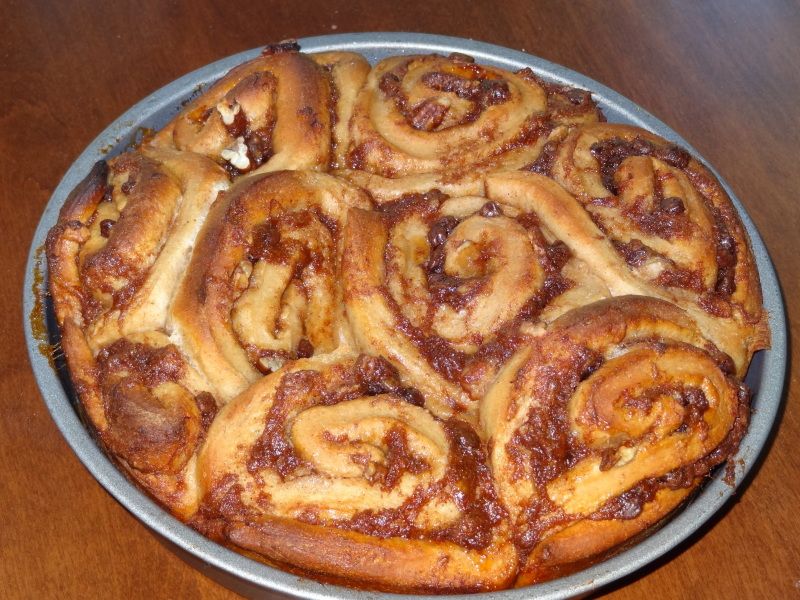 Did I mention these were tasty? My husband and I each had two for an afternoon snack!