I absolutely adore Thai food. In college and part of law school, it was a once a week event. Over the years, my "favorite" dish has changed from chicken fried rice to garlic chicken to basil chicken to pad thai and, finally, to pad see-ew. However, in my neighborhood, while there are a fair number of pizza, Chinese, and burger places, there's not a Thai place to be found. Thus, I hit the internet to find a substitute to get me through.
I adapted this recipe from
Serious Eats
. When I tried it, I doubled the recipe because I had a larger package of noodles and more chicken defrosted than the original recipe called for. Also, there was a really weird ingredient (baking soda) and step (boiling the chicken) that stuck me as extremely unusual, so I left the baking soda but elected to saute the chicken instead. I'm not sure whether it was the baking soda or the sauteeing, but it made the chicken taste a little like shrimp. Thus, I'm writing this below as I intend to try it,
i.e.
simply saute the chicken with corn starch as I do in other stir frys. Nonetheless, the sauce and noodles were fantastic so all I did was eat around the chicken and am hoping for the best on the next attempt :)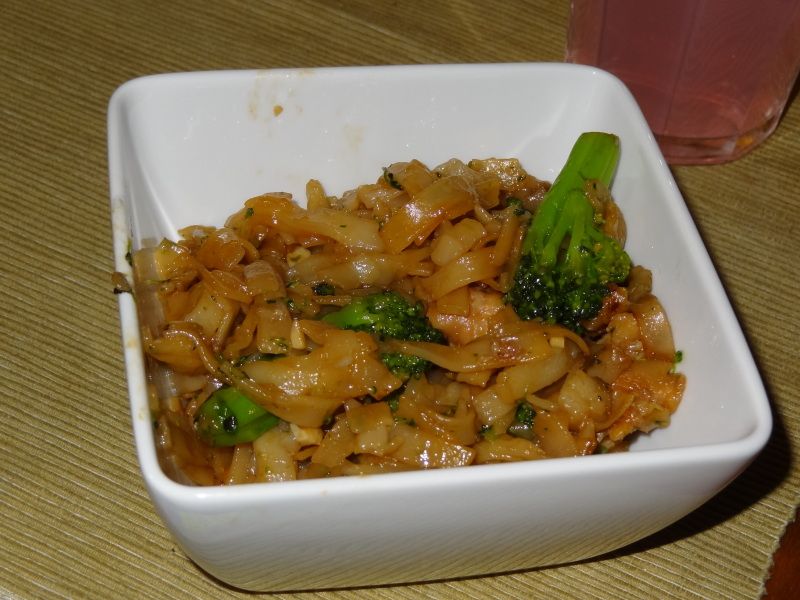 Pad See-Ew
8 oz boneless, skinless chicken breast, thinly sliced
1 tbs corn starch (original recipe called for 2 tsp baking soda)
4 Tbs soy sauce, divided
4 Tbs oyster sauce
4 tsp sugar
4 tsp rice wine vinegar
2 garlic cloves, minced
16 oz flat rice noodles
3 c broccoli
4 eggs
4 TBS dark soy sauce
Few tbs Canola oil
1. Marinate chicken with 2 Tbs of soy sauce and corn starch.
2. In a separate bowl, whisk together oyster sauce, 2 Tbs soy sauce, sugar, vinegar, and garlic. Set aside.
3. Prepare the noodles according to the package directions. Drain and toss with a little bit of oil to prevent sticking. (Do not omit this step, else your noodles will stick together.)
4. In a wok or large skillet, sauce the chicken in canola oil until golden brown. Remove from pan.
5. Adding a little oil, if necessary, stir fry broccoli until slightly tender and beginning to brown. Remove from pan.
6. Scramble eggs in a small bowl and pour into pan. Cook until just about firm, then scramble them up. Remove from pan.
7. Adding a little more oil, if necessary, add noodles to hot pan and drizzle with dark soy sauce. Toss around until noodle begin to brown.
8. Return all ingredients to the wok and add sauce. Stir fry until sauce has thickened slightly and everything is liberally coated with sauce, about 3 minutes.
Serves 4 - 6