After a fairly busy weekend of shopping, museum-going, and a whole lot of driving, I was still determined to bake bread before the weekend was gone. However, I didn't finish this bread until after midnight Monday morning, so does it still count? It should! Anyway, on Sunday after a nap, I made whole wheat English muffins (recipe to come) and whole wheat sourdough bread. As you know, a little over a week ago, I began a
sourdough starter
. I'm hoping to use it one a week or thereabouts so (a) I remember to feed it once or twice a week, (b) it doesn't die, and (c) it doesn't unnecessarily hog space in the fridge. I considered trying sourdough English muffins, but all of the recipes called for making a sponge with the starter that would then sit out overnight. Since I already had the starter out overnight, I didn't want to push back making something with it another night. Thus, I made regular whole wheat English muffins and tried my hand at whole wheat sourdough bread.
As you'll notice, this recipe is the same as
my first attempt
at regular sourdough, which turned out so well. This is tasty, but definitely drier than the original. Thus, though it likely has some health benefits, I probably won't attempt this one again soon. However, the recipe makes two loaves, so there is a possibility I'll change my mind after we finish it all. Additionally, this one took longer to rise and could have probably used a bit more time than I gave it, but I wanted to go to bed.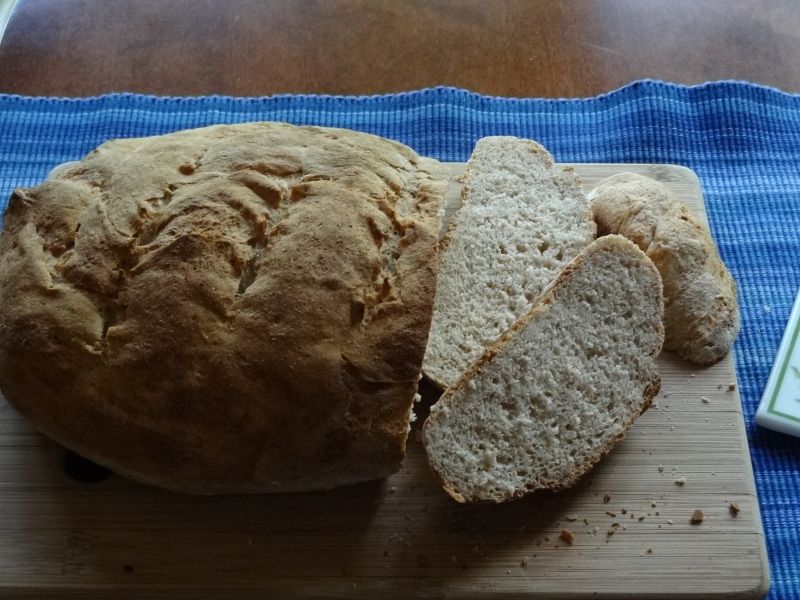 Whole Wheat Sourdough Bread
1 cup
sourdough starter
1 1/2 cups lukewarm water
2 teaspoons instant yeast
1 tablespoon sugar
2 1/2 teaspoons salt
3 cups bread flour
2 cups whole wheat flour
1. Proof yeast in water for 5 minutes. Mix in sugar, salt, and half the flour until moistened. Add starter and rest of flour. Knead in stand mixer for 5-10 minutes until smooth and elastic. Add a bit more flour if dough seems too loose.
2. Place in a large bowl spritzed with canola spray. Cover with plastic wrap and let rise for two hours minutes or until doubled in size.
3. Divide dough in half and shape into loves. Cover with a towel and let rise for 60-90 minutes.
4. Preheat oven to 425 degrees. Spritz loaves with water and make a few slashes. Bake 25 to 30 minutes until golden brown.
Makes 2 loaves