I'd been looking for a pancake with oatmeal for sometime. I found this recipe at
Tracey's Culinary Adventures
, as well as on a number of other websites. Tracey credits Gourmet Magazine, February 2008. The original recipe calls for 1/8 tsp of nutmeg, of which I'm not a fan, so omitted it and upped the cinnamon. Because of the pre-soaking step for the oatmeal, it can't a pre-made mix. Although they were unusually hearty pancakes, they were rather tasty.
Whole Wheat Oatmeal Pancakes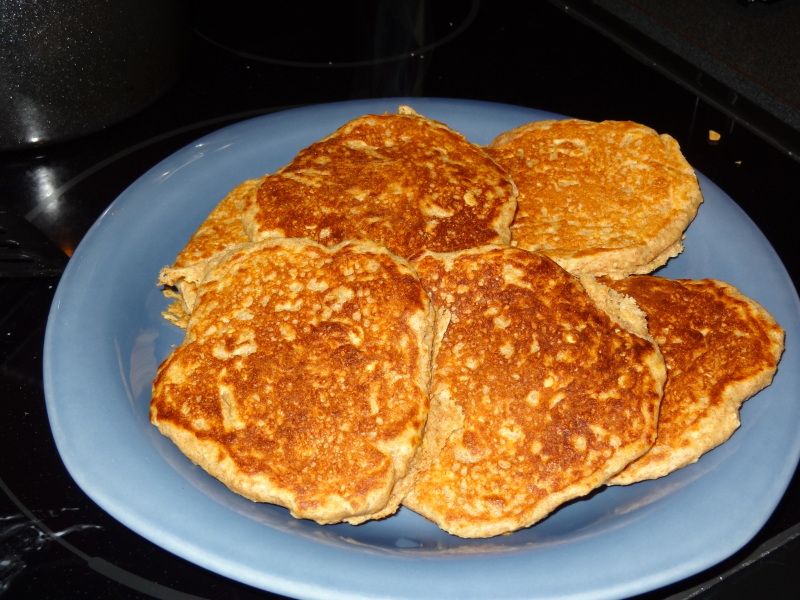 3/4 cup quick-cooking oats
1 1/2 cups plus 2 tablespoons buttermilk, divided
3/4 cup whole wheat flour
1 1/2 teaspoons baking powder
3/4 teaspoon baking soda
3/4 teaspoon cinnamon
1/2 teaspoon salt
1 large egg, lightly beaten
2 tablespoons butter, melted
1 tablespoon brown sugar
1. Soak oatmeal in 3/4 c buttermilk for 10 minutes.
2. In a separate bowl, whisk flour, baking powder, baking soda, cinnamon, and salt together.
3. Add the egg, melted butter, brown sugar, the remaining 3/4 cup plus 2 tablespoons of buttermilk, and the oat mixture to the bowl. Whisk together until just barely combined.
4. Cook 1/4 c fulls on a preheated griddle or skillet spritzed with cooking spray until golden brown.
Makes 10-12 pancakes