Wow, two posts in two days! I'm sure you're shocked. I'm trying to post a couple things that I've made this week since I uploaded the pictures.
I found this recipe on a blog called
Chickens in the Road
. Thankfully, as I was growing up my parents didn't go in much for box/ready-to-eat foods. Or should I say they didn't do the ones that typically appeal to children (e.g. Kraft Mac N' Cheese, Hamburger Helper, or Chef Boyardee). In college I occasionally had the blue box mac n' cheese in my dorm room--there's only so much you can cook with a microwave--but I've never tried authentic Hamburger Helper or Chef Boyardee. Thus, I've always been curious about such things, though too afraid of the massive sodium to buy them.
When I saw
this recipe
for a homemade variety that sounded quite innocuous, I decided to try it. It was rather tasty! My only complaint is that I thought it was strange that she advises to season the meat
after
browning it. Sure enough, I think that influenced the taste as the meaty bites seemed a little bland to me. Thus, if I make it again, I will probably toss a little salt and pepper on the meat as I brown it. Plus, I didn't have elbow macaroni so I used whole wheat penne. The 12 minute cooking time caused them to become a little mushy so I will pay more attention to that next time. My husband who claims he did eat such things as a child said it tasted like the real thing!
If you would like to include these homemade packets in your pantry, check
her blog
for more sauce flavors. She also has step by step directions with more photos. On to the recipe!
Homemade Hamburger Helper (Chili Cheese Version)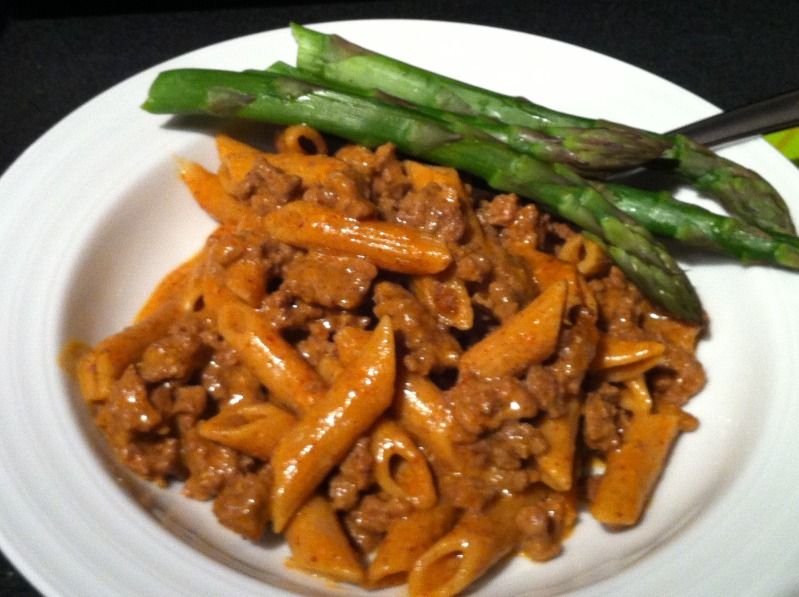 1 pound ground beef
1 cup hot water
2 cups milk
1 1/2 cups elbow macaroni
1 cup cheddar cheese, shredded
Seasoning Packet
1 tablespoon corn starch
1 tablespoon chili powder
1 teaspoon garlic powder
1 teaspoon salt
1 teaspoon sugar
1/2 teaspoon paprika
1. To prepare packets for pantry, separately package macaroni and seasoning packet in separate plastic bag. Write the directions on one of the bags or on a notecard posted on whatever you store these packets in.
2. Brown ground beef with a sprinkle of salt and pepper, as desired. Drain.
3. Stir in hot water and milk. Add pasta and seasoning packet.
4. Bring to a boil, then cover and simmer about 10-12 minutes until pasta is tender. In the last minutes of cooking, stir in the cheese.
5. When pasta is tender and cheese is melted, turn off heat and let stand, uncovered, for five minutes to allow sauce to thicken.
Serves 4