I was in the mood for Thanksgiving food, so I bought "turkey breast" pieces from the market. It wasn't as sketchy as it sounds, but unfortunately turned out to be only a half breast. None the matter, I did my butter herb rub and baked it for about an hour. I paired it with garlic mashed potatoes and some broccolini for a very Thanksgivingy meal.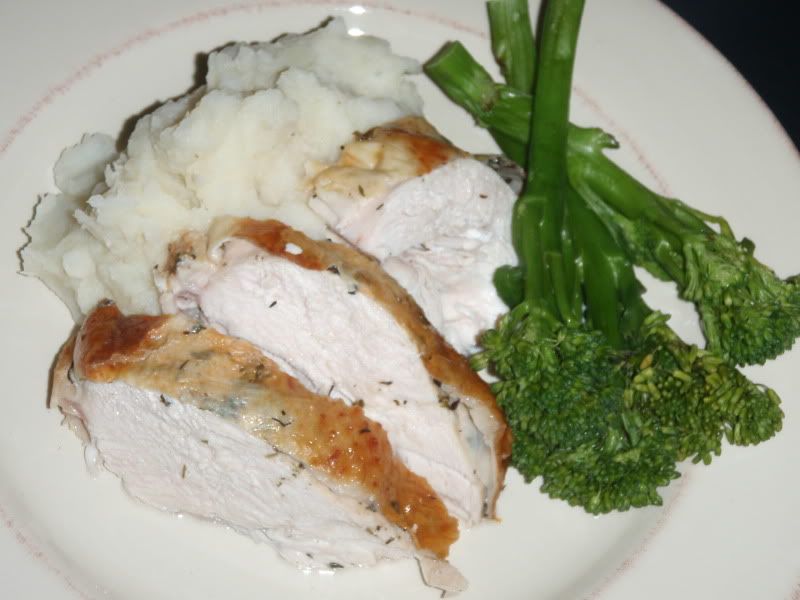 Ingredients
turkey breast
2-4 tbs softened butter
2 tbs minced fresh herbs (tsp if using dried) - I used sage and thyme
salt and pepper
2 lbs potatoes, diced and boiled until tender
4 tbs butter
1 head garlic, roasted skin-on, wrapped in foil with turkey until soft and spreadable
1/2 c milk, half&half or cream
salt and pepper to taste
Directions
1. Combine herbs, about 1/2-1 tsp salt and pepper, and softened butter into a paste. Work mixture under the skin of the turkey breast, then rub liberally all over the bird. Salt and pepper cavity, if desired.
2. Bake uncovered until internal temp reaches 165 degrees, about an hour. Tent with foil if skin begins to over-brown. Alternatively, cook covered for 45 minutes, then remove cover and brown for last 15 minutes. (I'm working with my new (old) oven and am still learning how evenly or not-evenly it heats).
3. Allow turkey to rest out of the oven for about 10 minutes before carving.
4. Drain potatoes and sprinkle with salt and pepper. Expel garlic from skins. Dot with butter.
5. Using potato masher, combine mixture together with a little milk at a time until desired consistency is achieved. Adjust seasoning to taste.
Serves 2-4