I modified
this recipe
from a year ago to add oatmeal. It is very important to mix the milk in gradually to achieve the consistency desired. The previous recipe called for 2 cups of milk, but I had perfect consistency after 1.5 cups. I used a Belgian waffle maker borrowed from my auntie which makes 2 squares instead of the usual four. Perfect for this small recipe which makes 3-4 big (4-square waffles).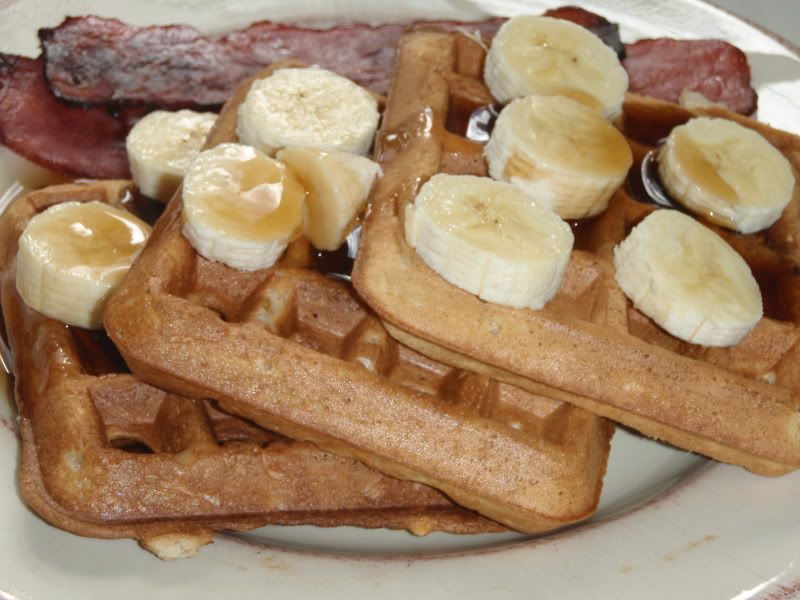 3/4 c whole wheat flour
3/4 c all purpose flour
1/2 c oatmeal
1/4 c sugar
4 tsp baking powder
1.5 c skim milk
1 egg, 2 egg whites
1 tsp vanilla
1/4 c melted butter
Preheat waffle iron according to its directions.
Whisk dry ingredients in a medium mixing. Make a well in the center and add eggs, butter, and vanilla. Mix together slowly adding in just enough milk to get consistency desired.
Pour about 1/4 c of the mixture into the center of each waffle square; spread around. This may vary depending upon the size of your iron.
Cook until golden brown. Serve with fruit, powdered sugar, fruit, and/or syrup.
Makes 3-4 servings